The Life-Changing Benefits of Aromatherapy and the Raindrop Technique
Aromatherapy is a fascinating field–one that got me completely hooked and that I've been passionate about for years. As a French native, where aromatherapy and phytotherapy have a prominent place in health and wellness, I've always known the power of essential oils. However, the day that I observed Raindrop Therapy performed on a horse was the moment I realized how powerful the discipline truly was. The horse being treated suffered from severe anxiety. He was blind in one eye and had behavioral problems that made him difficult to ride and to allow him in proximity with other horses.
At the start of the gathering, the horse seemed agitated, apprehensive, and therefore unpredictable from what his owner explained. As told for safety reasons, the observing group kept a good distance around the duo therapist and horse while watching. After 30 minutes or so into the session, we were all in awe. The animal's transformation was really visible: no more pinned ears, no kick attempts, no shifting his weight back and forth or compulsively moving his head from side to side. Not only did he appear very calm, his demeanor shifted–his behavior was completely changed. He seemed engaged with the therapist manifesting contentment, displaying a relaxed lower jaw, his tail was down and loose, and twinkling his eyes softly accompanied by soft snoring sounds of appreciation.
I then participated in a raindrop technique that was performed on a small dog with anxiety and compulsive eating behaviors. The results were very similar. At the end of the session, both animals seemed to have found peace and balance. I was so impressed by the effectiveness of this treatment. It worked beautifully on these animals–so I quickly realized the benefits that it would have on myself and the people that were coming to me for help. After these experiences, I received my training and certification in the Raindrop Technique through Young Living™ and I completed my certification as a clinical aromatherapist through the ISHA institute (Institute of Spiritual Healing and Aromatherapy).
My interest for Gary Young, founder of Young Living™, first came because of his worldwide experience in essential oils, but more so because of his background in learning from renowned french pioneer in aromatherapy, Dr. Jean Valnet. Aromatherapy in France is widely recognized and valued as a natural and effective form of medicine. I choose to use Young Living™ because they adhere to this French standard. After visiting their facilities, lab and farm in Utah, reviewing their ingredients, and using their products on myself, I've never engaged or trusted more in a company and the quality that they provide.
Physiomassage is a great way to address these postural and muscular imbalances that have occurred during the multiple changes our bodies have made and continue to go through. During this private session, you receive a postural assessment so I can give you specialized Postural Restoration exercises that address those imbalances and help return your body to a pain-free state. In addition to gently repositioning our postural system, these exercises also help with Diastis Recti and Pelvic Floor weakness (added bonus – yaaaas girl!). These gentle exercises can be done everyday, especially when feeling more muscle tightness and pain at home while caring for your baby. I've done them at home with my son in his Boppy pillow or while he was taking a precious nap! These private sessions also include a customized massage that targets those specific muscles that are in pain and are holding excessive tightness.
These are my favorite sessions because they are very educational as they empower YOU. As a new mom, it's so easy to lose sight of me-time. These sessions are so very important to be able to correct your posture while also giving you the opportunity to relax, decrease muscle tension, and overcome pain. My goal for each session is to make sure you feel your best and to help you Thrive during each phase of motherhood. I look forward to getting to meet you mama!
Thriving Magazine • Men's Health Issue
Most of us have, at least, a vague idea of what we need to do to live healthy lives. We may also have the best intentions to take action to make ourselves healthier. Unfortunately, we may not be successful because many of us, though ambitious, set ourselves up for failure. This edition of Thriving Magazine is all about men's health and wellness, and how making small changes to your every-day routines can greatly influence your overall health.
Articles are written by our experts in Lifestyle Medicine, physical therapy, fitness training, chiropractic care, nutrition, massage, acupuncture, Chinese medicine, and energy healing.
More Articles to Help You Thrive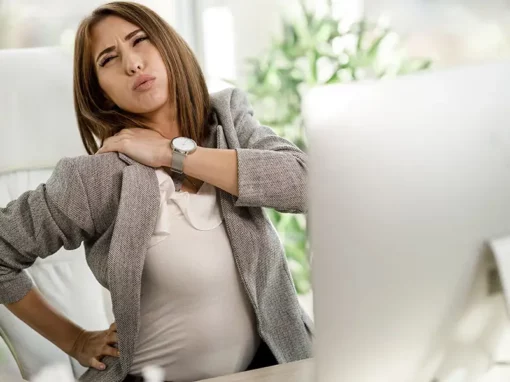 In today's world, many of us spend a significant portion of our day working at a desk or in front of a computer. However, long hours of sedentary work can take a toll on our bodies, leading to discomfort, pain, and decreased productivity. This is where workplace ergonomics and chiropractic care come into play. So, why are workplace ergonomics ...