for those looking to achieve a higher level of physical health and fitness
Whether you are at the start of your fitness journey or looking to improve your performance, we provide expert guidance, motivation, and accountability to get you on a lasting path to success and positive lifestyle change.
What makes personal training at Thrive different (and better)? 
We set the bar higher with our level of coaching and we're experts at knowing what it takes to keep joints balanced and moving well. We incorporate corrective and restorative properties of movement to help improve how your body moves. With strength and conditioning, personalized attention and intelligent programming, you can improve your energy, power, and physical vitality regardless of any past injuries or obstacles.
Your fitness program (and your health journey) will benefit from many of our services and experts, all dedicated to helping you restore, revive and optimize your health.
Are you looking to improve the way you feel in your body? Lose weight? Regain balance? Increase your overall strength?
---
Do you find yourself getting injured or having pain on one side of your body more than the other?
---
Do you participate in a repetitive rotational sport like tennis, volleyball, baseball, softball, etc. and you are looking for the edge to keep your body moving well and prevent injury?
---
Do you have scoliosis or spinal curve changes and you want to learn how to move your body, exercise without pain, and strengthen your core?
---
Have you had a total joint replacement or other major surgery and are looking forward to getting back to a regular fitness program?
Thrive's Fitness Training is ideal for those looking to…
Improve your overall fitness and move better
Recover from an injury
Reduce muscle or joint discomfort
Regain balance and strength
We incorporate corrective and restorative properties of movement to help you improve how your body moves while helping you achieve your health and fitness goals.
No matter where you are on your journey or where you want to go, our coaches will personalize your exercise program to help you become the best version of yourself. With well-planned, intelligent training, our coaches will educate and empower you to reach your health and fitness goals.
Fitness Training Services
Available only at Thrive's Virginia Beach Market Square location.
20% discount offered to military, first responders and healthcare workers for all cash-based services. 
~~~ Ask About Our Membership Plans & Packages ~~~
Membership Plans and Packages offer our services at reduced rates and allow for additional discounts.
I came to Thrive with a right shoulder replacement. The staff showed me how compensating for that shoulder for so long had thrown my spine and hips out of alignment and was the source of a lot of pain I'd been having. We started a regimen of exercises to correct that while also working on mobility and eventually strength in my shoulder. So glad I chose Thrive. I had forgotten what it was like to be pain free. Great staff!!
John I.
Meet Your Fitness Training Experts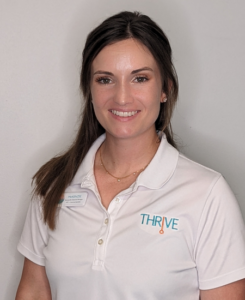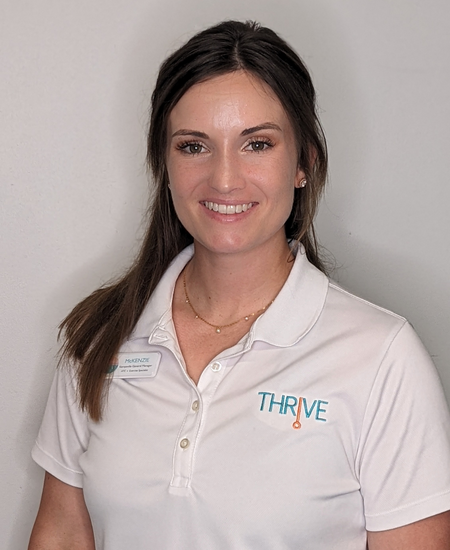 McKenzie Makar
KR General Manager + Athletic Trainer
McKenzie is a Certified Athletic Trainer having spent most of her career assisting athletes in wellness and prevention, emergency care, injury evaluation, and rehabilitative care. She made her way to THRIVE inspired to approach personalized care more holistically and proactively.
McKenzie values progressing her patients physical and mental strength, as well as her own. She believes everyone should be able to move efficiently and pain free, whether that is in the gym, your job, sport, or home. "We are all in this health and wellness journey together for the long run. Approach everyday with the goal to become 1% better."
Education / Certifications / Training Courses
Master's of Athletic Training, Old Dominion University
Bachelors of Athletic Training, University of Tampa
Certified Personal Trainer, NASM
On a personal note…
Moved to VB from Fort Myers, FL in 2018.
Happy dog mom to two rottweilers
Hobbies: Strength training, reading, going to the beach
Favorite Music: Country

Matt Campbell
Provider
Fitness Coach + Exercise Specialist
Matt brings over 18 years of experience in the fitness industry and a passion for movement and people!  He has an insatiable appetite for learning and has always had a fascination with how things work. That curiosity first manifested during his studies at VCU and evolved over a life of navigating his own chronic pain and injuries and the search for information and hard to find answers. He credits that important journey, though, with truly learning the capabilities of the applied human body and the transformative power of strength training.
From his time at VCU to over a decade spent coaching in some of the top clubs in NYC and now back to his home state, he has trained in a myriad of gym and fitness centers from private clubs to some of the most prestigious facilities in the country. He remembers taking some of the first fitness courses in "Functional Training" and has done extensive continuing education in the areas of posture, biomechanics and corrective exercise. The only thing that rivals his passion for improving the way people move, is his desire to empower his client in their own health journey; to overcome obstacles and achieve their goals. He is a true coach, completely committed to and invested in his clients and their success.
On a personal note…
Matt is also a proud father of the two most creative, determined and independent girls. In a house of all women, he admits that he is completely outnumbered but also acknowledges that he wouldn't have it any other way.
If not in the gym he may be found coaching his daughters' sports, going on adventures with his family, singing and playing music (he plays three instruments), or enjoying a rare choice bourbon with friends.

Kim Scholl
Provider
Exercise Specialist + Fitness Coach
Kim developed an appreciation for strength and efficient movement at an early age, growing up on a farm in Michigan. After a family move to Florida, she kept moving via dance, running, and group exercise. She completed BS and MS at the University of Florida, teaching as a graduate student in the Dept. of Health and Human Performance. She realized during that time that she absolutely loved being able to educate people about fitness and how to make it a fun and enjoyable journey. She continued to be curious about the body, graduating from massage school in Pensacola, FL. She has also completed a 200hr yoga instructor course in Virginia Beach.
Kim has trained clients in California, Texas, Florida, Rhode Island, and Virginia while her husband has been deployed for up to a year at a time. She is constantly seeking new opportunities for education in order to find ways to inspire and motivate folks to enjoy the art and science of physical fitness.
On a personal note…
Long, long ago, in a bar in Pensacola, Kim met a handsome Naval Aviator.  They eloped and the Navy moved them many times, but when hubby'a military service landed the two in Virginia Beach, Kim (at 7 months pregnant at the time), announced, "I'm home!"  They now have two grown children, one son who graduated from JMU and a daughter still in college. They recently added two English Labs to the mix, who love going to the beach and playing fetch.  In her spare time, Kim enjoys reading, hiking and biking. She and her husband recently rode the Capital Trail, from Jamestown to Richmond, spent the night and rode back the next day. Over 100 miles round trip…on a 3 speed beach cruiser. And loved every second of it!

Kori Polin
Provider
Exercise Specialist + Fitness Coach
Kori's philosophy is to just "Move something!" She believes each day we workout with a different feeling in our body than the day before. Some days the workouts are easy and other days, just getting out of bed seems like an impossible challenge. Regardless, we can all move something. And once we do, we feel so much better!
Kori values exercising and says it's one of the best parts of her day! She has fun helping others fall in love with fitness! She enjoys being part of her client's journey, coaching, cheerleading and empowering them to move more, eat smart and choose behaviors that improve their health and wellness.
Kori has spent most of her career as a Fitness Director in a retirement community setting. She has been working with mature adults providing unique and innovative health, wellness and fitness programs, teaching group fitness classes and providing one on one personal training for over 25 years. She is excited to share her expertise at Thrive! 
I enjoy helping people move better and feel better in their bodies. There is a fitness program that works for every body. I like the challenge of putting the puzzle pieces together to figure what that is for each individual client. It is my passion to help client's reach their goals by providing small, incremental fitness and wellness recommendations that result in long-term positive changes. I love building relationships with my clients, laughing and learning about each other while we work together reaching their goals.
Education / Certifications / Training Courses
Bachelor of Science in Exercise Science and Health Science
American Council on Exercise Health Coach
American Council on Exercise Group Fitness Instructor
E-RYT 500
On a personal note…
When Kori is not working, she is playing outside! She loves walking, hiking and practicing yoga in nature. When she is not in motion outdoors, she is reading in the sunshine or near her fire pit. She loves cooking healthy Indian, Mexican, Thai and Italian dishes to share with family and friends. She has been married for over 20 years, has two amazing kids and two crazy rescue dogs.
Frequently Asked Questions
About Fitness Training at Thrive
Do you offer fitness programs for seniors and people with limited mobility?
We offer exercise solutions to anyone who wants to get more out of their fitness. We look at everyone as a unique individual and want fitness to be accessible to everyone no matter their perceived limitations or current level. We are specialists in helping people move better and get more out of exercise.
Do you offer fitness training for competitive athletes?
We work with all of our members to improve the function and performance of the human body. No matter what level of recreational or sports performance that is, we will assess any opportunities for improvement and performance. We want you to move better and perform at a higher level. No matter what that level is, we want to take you further.
Will fitness training help with balance issues?
Absolutely — our fitness training programs will help with balance issues. And hopefully beyond even what you may expect. The area of balance is one that is defined in many different ways and often misunderstood. Because we understand that balance comprises both static and moving posture, mobility, proprioception and strength, we train for it through multiple avenues and our members see improvement beyond simply the ability to "stand on one leg".
We look at balance three-dimensionally and challenge our members to be able to maintain range of motion and control and find balance through more complex movement and exercise. We don't want you to just be able to "achieve" a moment of balance, we want you to have the tools to find balance in any environment of movement and exercise.
Can I start a personal fitness program if I have an injury and/or pain?
Unfortunately, too often exercise is the thing that ends up hurting us, which limits the very goals we are trying to reach. We believe exercise should make the body feel good by moving better and building a more resilient system that can keep you doing the things you love.
We recognize that almost everyone has had injuries, experiences nagging or chronic pain, or feels limited by the things they can do. We are passionate about helping you overcome obstacles. We have assembled an industry-leading team of coaches, biomechanical experts and physical therapists who meet you right where you are, and who are committed to finding solutions.
What makes the restorative fitness program different?
Restorative Fitness is an innovative approach to exercise that seeks to improve overall fitness by focusing on what matters most: building a body that can move well in the first place. We assess each individual to understand their unique profile in order to determine what they need. By understanding each person, we can then use exercise to improve movement and challenge fitness.
We welcome anyone who wants to achieve a higher level of fitness. We are movement experts who are passionate about the human body. From people coming off of injury to healthy gym-goers, from weekend warriors to professional athletes, we work with people looking to improve and optimize function and performance. No matter where you are on the journey, we will tailor an exercise program specifically for you.
Do you use weights or special equipment?
While you will see a lot of very specialized equipment here, we use everything from dumbbells and kettlebells to TRX, medicine balls, barbells and more. From traditional to non-traditional equipment, free weights to bodyweight, the program is not built on a particular apparatus or brand, but instead focuses on what your body needs biomechanically and draws from a vast array of equipment and tools to get there.
MARKET SQUARE
2830 Virginia Beach Blvd.
Virginia Beach, VA 23452
Directions
HOURS
Monday • 9am - 7pm
Tuesday • 9am - 7pm
Wednesday • 9am - 7pm
Thursday • 9am - 7pm
Friday • 8am - 4:30pm
Saturday • 9am - 2pm alternating
Sunday • CLOSED
CONTACT INFO
(757) 364-0067
Fax: 757-416-7777
KEMPS RIVER
1320 Kempsville Road
Virginia Beach, VA 23464
Directions
HOURS
Monday • 11:30am - 7pm
Tuesday •  CLOSED
Wednesday • 10am - 6:30pm
Thursday • 9am - 5pm
Friday • 9am - 4:30pm
Saturday • CLOSED
Sunday • CLOSED
CONTACT INFO
(757) 364-0067
Fax: 757-416-7777