Personal Fitness Training
for those looking to achieve a higher level of physical health and fitness
Available only at Thrive's Virginia Beach Market Square location.
20% discount offered to military, first responders and healthcare workers for all cash-based services. 
What Makes Thrive the Best Choice for
Personal Fitness Training?
We set the bar higher with our level of coaching AND we're experts at knowing what it takes to keep joints balanced and moving well.
Whether you are at the start of your fitness journey or looking to improve your performance, we provide expert guidance, motivation, and accountability to get you on a lasting path to success and positive lifestyle change.
We incorporate corrective and restorative properties of movement to help improve how your body moves. With strength and conditioning, personalized attention and intelligent programming, you can improve your energy, power, and physical vitality regardless of any past injuries or obstacles.
Your fitness program (and your health journey) will benefit from many of our services and experts, all dedicated to helping you restore, revive and optimize your health.
Get Started with Fitness Training!
Cost is based on your personalized plan: frequency, session length and if you have a membership plan or package.
Initial Assessment & Body Composition Analysis
During your assessment we will review your health history, previous injuries, exercise experience and goals for the program moving forward. We measure your strength and mobility, gait, and your standing and moving posture to identify your unique movement profile.
We use the Inbody 770 Body Composition Analyzer to give us a complete breakdown of your body's composition including muscle mass, fat mass and water distribution. With all of this data we will, together, develop a plan to help you meet your goals.
Private Fitness Training
Work one-on-one with your trainer and personalized plan of care that meets your fitness goals.
Semi-Private, Two-Person Fitness Training
Grab a workout buddy or allow our trainers to pair you up with a partner with similar fitness goals. Motivate each other as you work on reaching your goals.
Fit2Thrive Group Fitness Training Classes
Our group classes are designed to help your not only meet your fitness goals, but also build community with your fellow Thrivers. Check 'em out! 
You may also use our chat feature or call to schedule your appointment.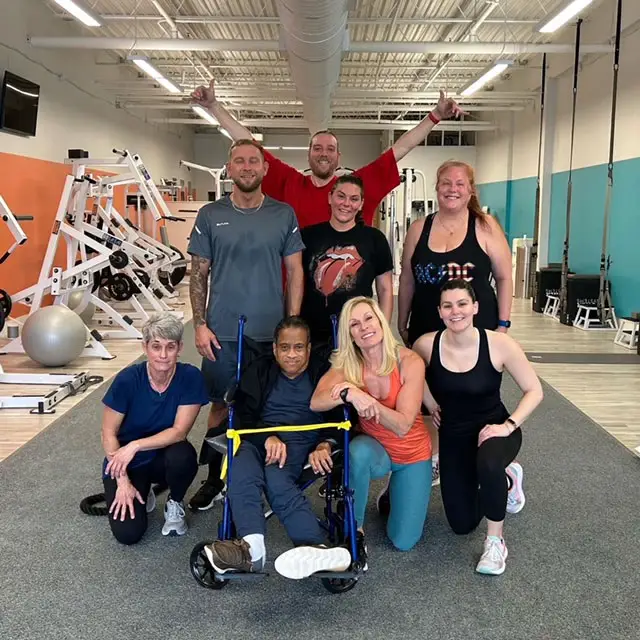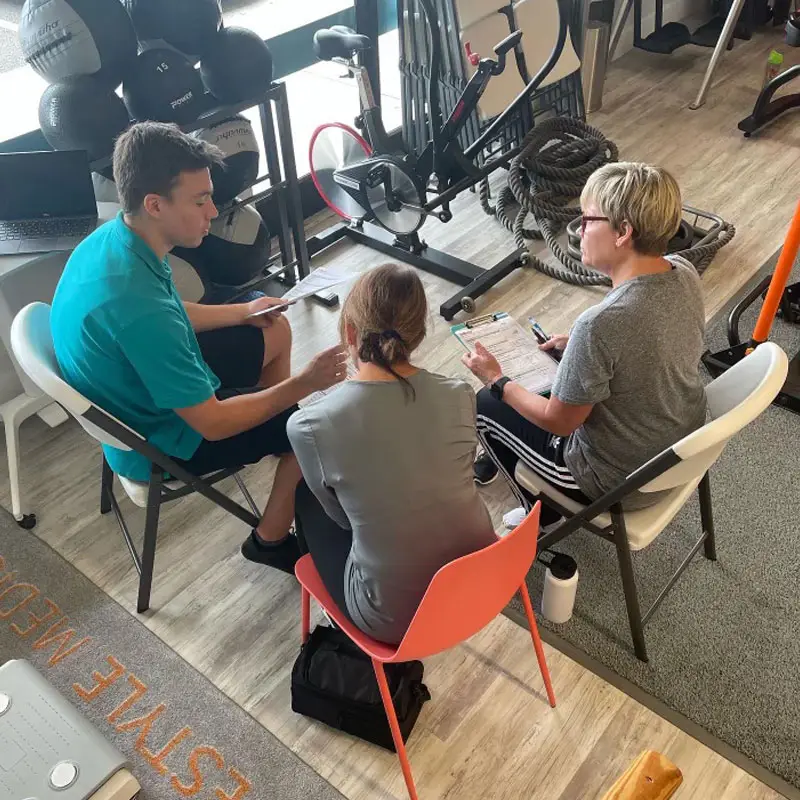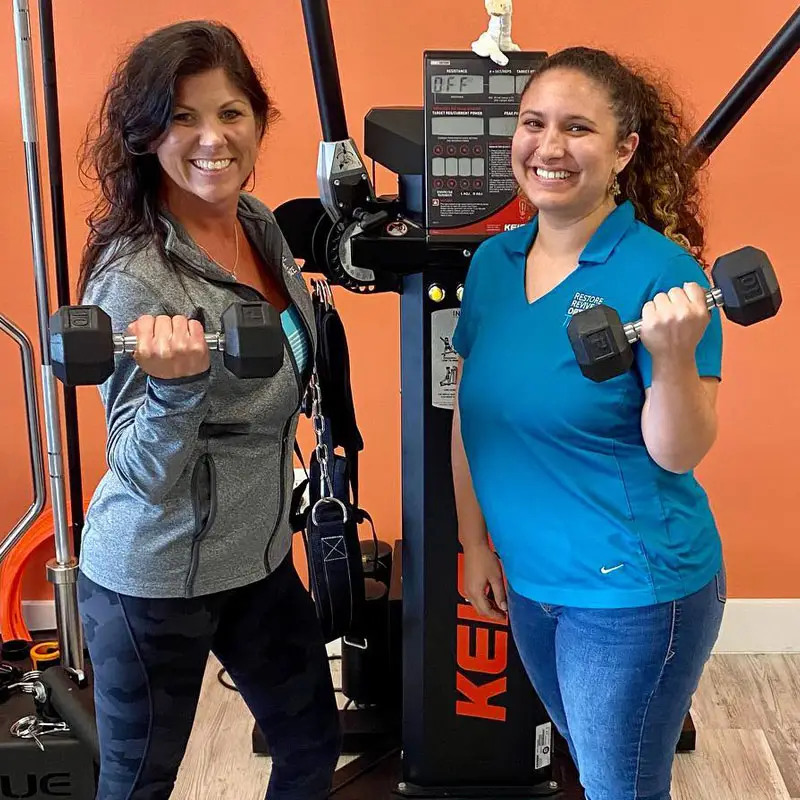 Our Fit2Thrive classes are designed to help build connections and community with your fellow Thrivers who share similar fitness and performance goals. You are invited to join us and have a great time on your fitness journey.
New to Thrive and interested in joins a group fitness classes? Call for info and book your class: (757) 364-0067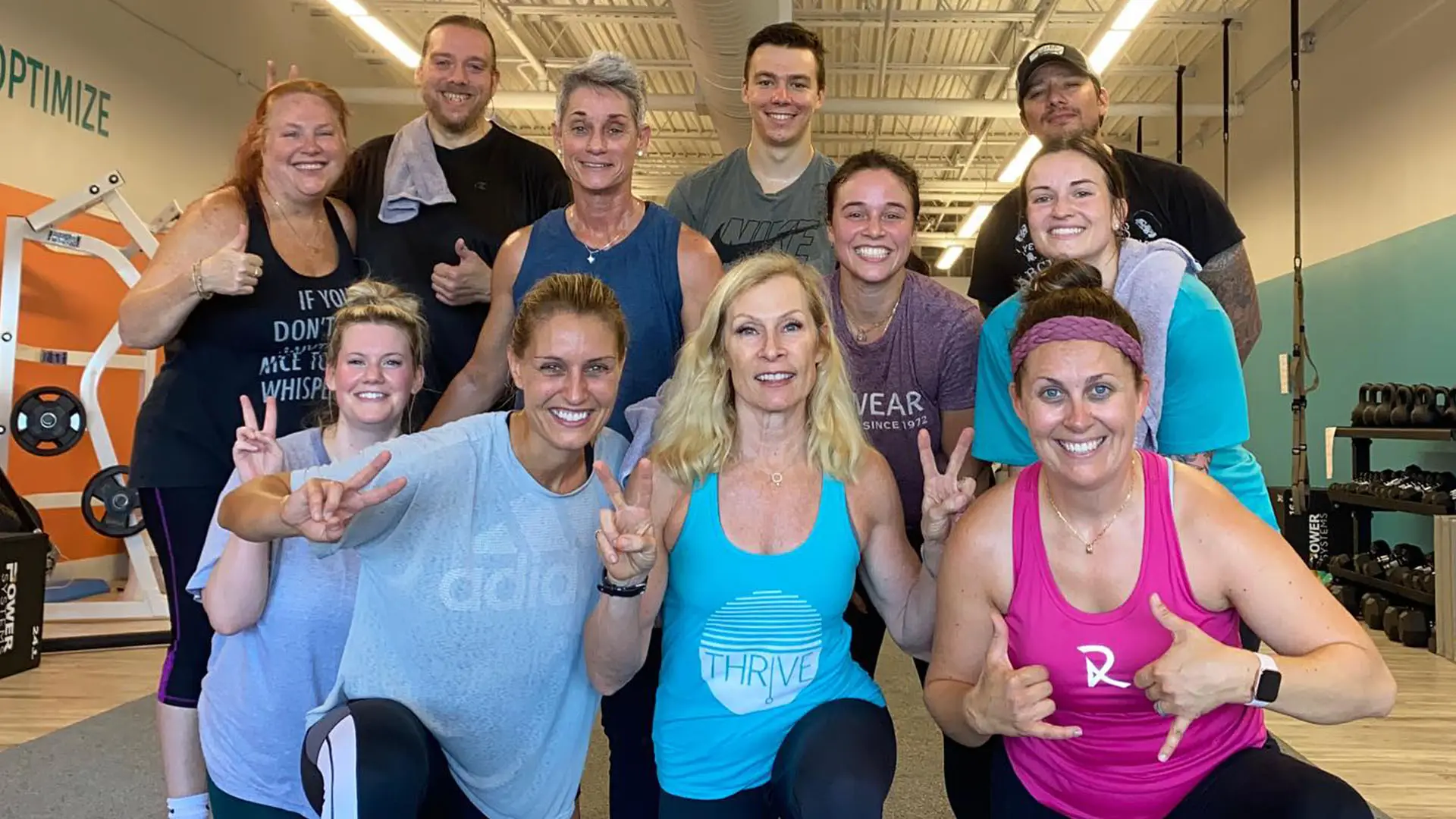 Small Group Fitness Training Class
Even in a group setting, our trainers work with you on an individual basis providing proper attention to safety, form, and alignment. Grab your workout buddies or allow our trainers to allow us to pair you up with a group with others sharing similar fitness goals (max of 5 people). Motivate each other as you work on your fitness goals together!
Sweat on Saturday (SOS) Fitness Training Class
Join us on select Saturday mornings for this group fitness class. We combine metabolic and strength training  with some fun and functional movement. You'll leave feeling accomplished and ready to tackle your weekend.
Golf Performance Fitness Training Class
Improve your golfing game! Reach your performance potential and goals while reducing pain and risk of injury. Our team will focus on developing the mechanics of the hips and rib cage through breathing and positional drills, while increasing general strength and explosiveness qualities to allow you to achieve a smoother and more powerful swing.
PT Transition Fitness Training Class
Join this class to help not only maintain your results from physical therapy, but to continue your health & wellness journey moving pain free. This will take you to the next level that you need to continue thriving. Let's keep you out of pain for good!
Are you looking to improve the way you feel in your body? Lose weight? Regain balance? Increase your overall strength?
---
Do you find yourself getting injured or having pain on one side of your body more than the other?
---
Do you participate in a repetitive rotational sport like tennis, volleyball, baseball, softball, etc. and you are looking for the edge to keep your body moving well and prevent injury?
---
Do you have scoliosis or spinal curve changes and you want to learn how to move your body, exercise without pain, and strengthen your core?
---
Have you had a total joint replacement or other major surgery and are looking forward to getting back to a regular fitness program?
Thrive's Fitness Training is ideal for those looking to…
Improve your overall fitness and move better
Recover from an injury
Reduce muscle or joint discomfort
Regain balance and strength
We incorporate corrective and restorative properties of movement to help you improve how your body moves while helping you achieve your health and fitness goals.
No matter where you are on your journey or where you want to go, our coaches will personalize your exercise program to help you become the best version of yourself. With well-planned, intelligent training, our coaches will educate and empower you to reach your health and fitness goals.
I came to Thrive with a right shoulder replacement. The staff showed me how compensating for that shoulder for so long had thrown my spine and hips out of alignment and was the source of a lot of pain I'd been having. We started a regimen of exercises to correct that while also working on mobility and eventually strength in my shoulder. So glad I chose Thrive. I had forgotten what it was like to be pain free. Great staff!!
John I.
Frequently Asked Questions
About Fitness Training at Thrive
Do you offer fitness programs for seniors and people with limited mobility?
We offer exercise solutions to anyone who wants to get more out of their fitness. We look at everyone as a unique individual and want fitness to be accessible to everyone no matter their perceived limitations or current level. We are specialists in helping people move better and get more out of exercise.
Do you offer fitness training for competitive athletes?
We work with all of our members to improve the function and performance of the human body. No matter what level of recreational or sports performance that is, we will assess any opportunities for improvement and performance. We want you to move better and perform at a higher level. No matter what that level is, we want to take you further.
Will fitness training help with balance issues?
Absolutely — our fitness training programs will help with balance issues. And hopefully beyond even what you may expect. The area of balance is one that is defined in many different ways and often misunderstood. Because we understand that balance comprises both static and moving posture, mobility, proprioception and strength, we train for it through multiple avenues and our members see improvement beyond simply the ability to "stand on one leg".
We look at balance three-dimensionally and challenge our members to be able to maintain range of motion and control and find balance through more complex movement and exercise. We don't want you to just be able to "achieve" a moment of balance, we want you to have the tools to find balance in any environment of movement and exercise.
Can I start a personal fitness program if I have an injury and/or pain?
Unfortunately, too often exercise is the thing that ends up hurting us, which limits the very goals we are trying to reach. We believe exercise should make the body feel good by moving better and building a more resilient system that can keep you doing the things you love.
We recognize that almost everyone has had injuries, experiences nagging or chronic pain, or feels limited by the things they can do. We are passionate about helping you overcome obstacles. We have assembled an industry-leading team of coaches, biomechanical experts and physical therapists who meet you right where you are, and who are committed to finding solutions.
What makes the restorative fitness program different?
Restorative Fitness is an innovative approach to exercise that seeks to improve overall fitness by focusing on what matters most: building a body that can move well in the first place. We assess each individual to understand their unique profile in order to determine what they need. By understanding each person, we can then use exercise to improve movement and challenge fitness.
We welcome anyone who wants to achieve a higher level of fitness. We are movement experts who are passionate about the human body. From people coming off of injury to healthy gym-goers, from weekend warriors to professional athletes, we work with people looking to improve and optimize function and performance. No matter where you are on the journey, we will tailor an exercise program specifically for you.
Do you use weights or special equipment?
While you will see a lot of very specialized equipment here, we use everything from dumbbells and kettlebells to TRX, medicine balls, barbells and more. From traditional to non-traditional equipment, free weights to bodyweight, the program is not built on a particular apparatus or brand, but instead focuses on what your body needs biomechanically and draws from a vast array of equipment and tools to get there.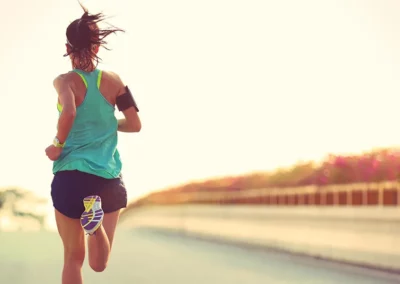 Are we getting the most out of what we do because we understanding the implications our actions have on our future health and ...
MARKET SQUARE
2830 Virginia Beach Blvd.
Virginia Beach, VA 23452
Directions
HOURS
Monday • 9am - 7pm
Tuesday • 9am - 7pm
Wednesday • 9am - 7pm
Thursday • 9am - 7pm
Friday • 8am - 4:30pm
Saturday • 9am - 2pm alternating
Sunday • CLOSED
CONTACT INFO
(757) 364-0067
Fax: 757-416-7777
KEMPS RIVER
1320 Kempsville Road
Virginia Beach, VA 23464
Directions
HOURS
Mondays ONLY • 11am - 7pm
CONTACT INFO
(757) 364-0067
Fax: 757-416-7777