The Untapped Power of Physical Therapy: More Than Just a Recovery Tool
We've all heard the adage, "prevention is better than cure." Yet, in the hustle and bustle of modern life, we often sideline this sage advice, pushing our bodies to the limit until they cry out for attention.
Enter the world of physical therapy — a realm where movement is medicine and where our bodies are guided to heal, strengthen, and thrive.
But is physical therapy only for those recovering from injuries or surgeries? Far from it.
In this article, we'll explore five reasons seeing a physical therapist can be a game-changer, not just for recovery, but for anyone looking to lead a more pain-free, active, and fulfilling life. Whether you're an athlete, office worker, parent, or just someone wanting to move better and feel better, read on to discover the transformative power of physical therapy.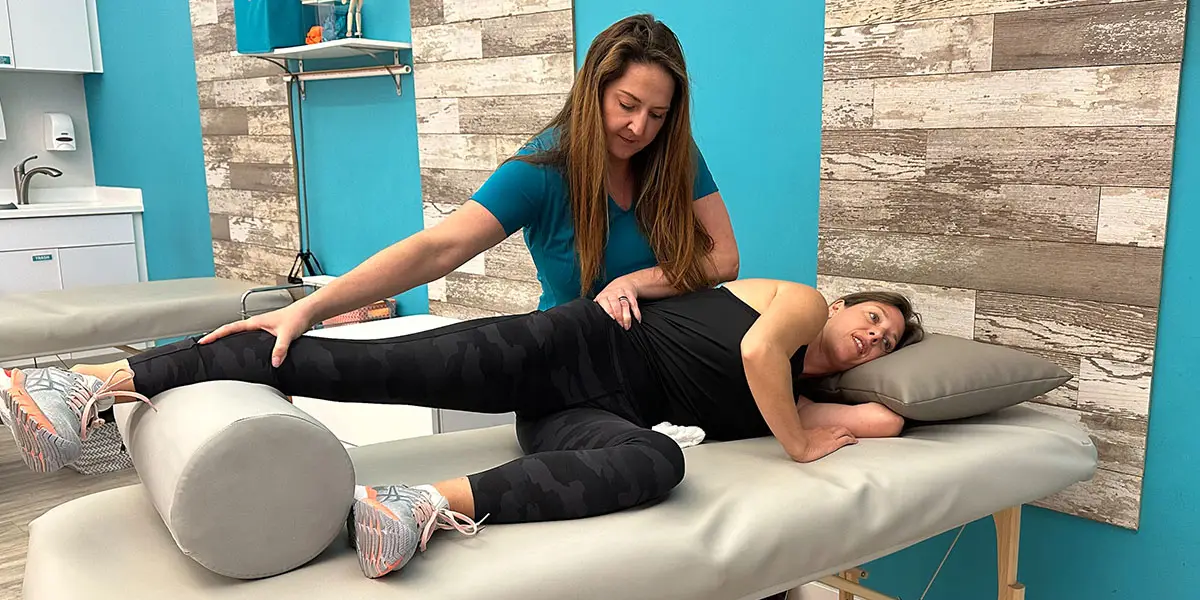 Whether you have had pain for a week, a year, or more… Seeing a physical therapist can help. Physical therapists not only use manual therapy techniques and exercises to help your body promote healing itself, but we also use special modalities to help the process. These special modalities include vacuum cupping, dry needling, instrument-assisted soft tissue mobilization (IASTM), as well as compression boots.
Physical therapy usually involves assessing a patient's weaknesses and formulating a plan to help strengthen those vulnerable areas. After identifying muscular imbalances, your physical therapist will develop an exercise regimen that aims to strengthen any weak muscles/joints and address any imbalances, which in turn helps to avert any future injuries.
Reduce Likelihood of Unwanted Procedures
While not all surgeries can be prevented, you could reduce the likelihood of an unwanted procedure by being more proactive with physical therapy. Often by strengthening the muscles above and below the joints, you can help improve your mechanics. This will take unnecessary pressure from the joint and disperse force throughout the whole body, in turn reducing pain at that joint and the need for surgery.
If you have had an injury or surgery, physical therapy can help you reach your goals of getting back to what you love more quickly. Physical therapists can tailor a program to help you gain the range of motion, strength and stability you will need to live your life to the fullest.
And it shouldn't stop there… Here at Thrive, our physical therapy and personal training teams work hand-in-hand to not only improve your recovery time, but help you continue your fitness journey to regain and improve your strength and mobility.
Stress incontinence is when you leak urine when you cough, sneeze, or laugh, whereas urge incontinence is when you have a sudden urge to urinate and can't always make it to the bathroom. While these conditions are common, they are not normal.
Some people with such limitations have found relief in making simple lifestyle changes, such as limiting how much you drink or avoiding carbonated drinks and caffeine. However, physical therapy has been proven to be beneficial for all with this condition. Physical therapy can make a difference in helping to strengthen the pelvic floor muscles, which is paramount in addressing the root cause of your incontinence.
The team at Thrive Proactive Health is here to help you restore, revive and optimize your health!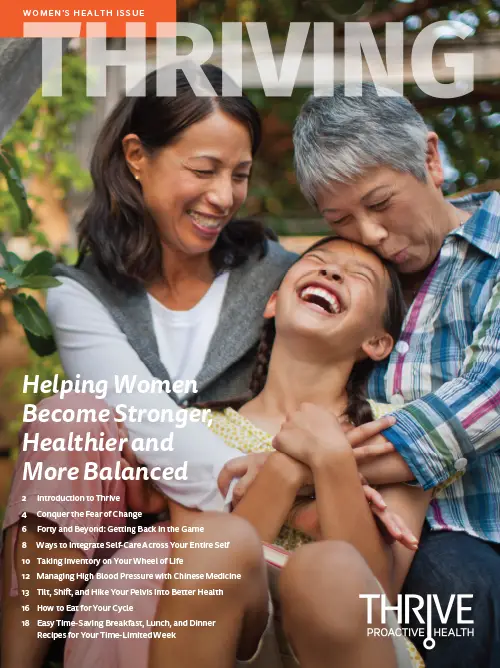 Thriving Magazine • Women's Health Issue
For many families, women are the gatekeepers of health and wellness. But so often, women neglect their own health to take care of others. We want to help change that. This edition of Thriving Magazine is all about women's health and wellness, and how taking care of yourself and understanding the importance of balance influences everything you do.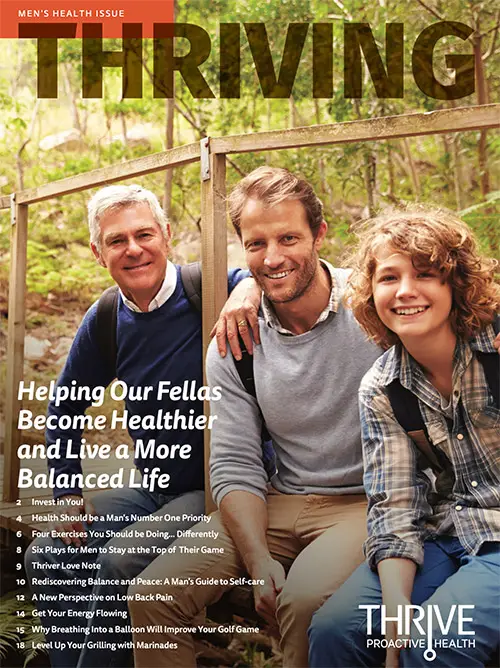 Thriving Magazine • Men's Health Issue
Most of us have, at least, a vague idea of what we need to do to live healthy lives. We may also have the best intentions to take action to make ourselves healthier. Unfortunately, we may not be successful because many of us, though ambitious, set ourselves up for failure. This edition of Thriving Magazine is all about men's health and wellness, and how making small changes to your every-day routines can greatly influence your overall health.
More Articles to Help You Thrive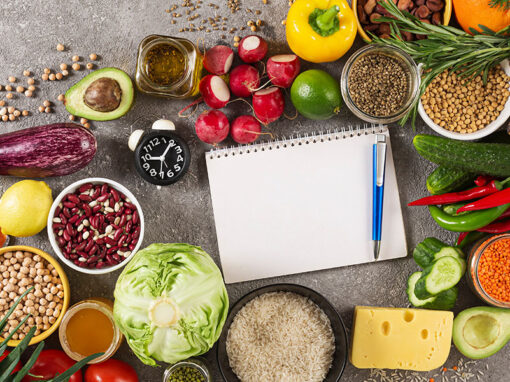 Why do we need to wait until January 1st to get it all together? Let's start making small changes today in order to get us on track for the start of the new year. When it comes to food and fueling our bodies, we do our best when we have good habits in place. Having a goal to "eat healthy" isn't enough; we have to have a plan in place to make ...