for those looking to relieve pain, improve energy and overall health
Chiropractic Care focuses on making sure your body is functioning as optimally as possible and supporting your nervous system.
Whether you're experiencing joint pain, pinched nerves, sciatica, back pain, neck pain, decreased or inefficient mobility, headaches (to name a few symptoms) — we analyze and treat your body based on why the dysfunction is caused.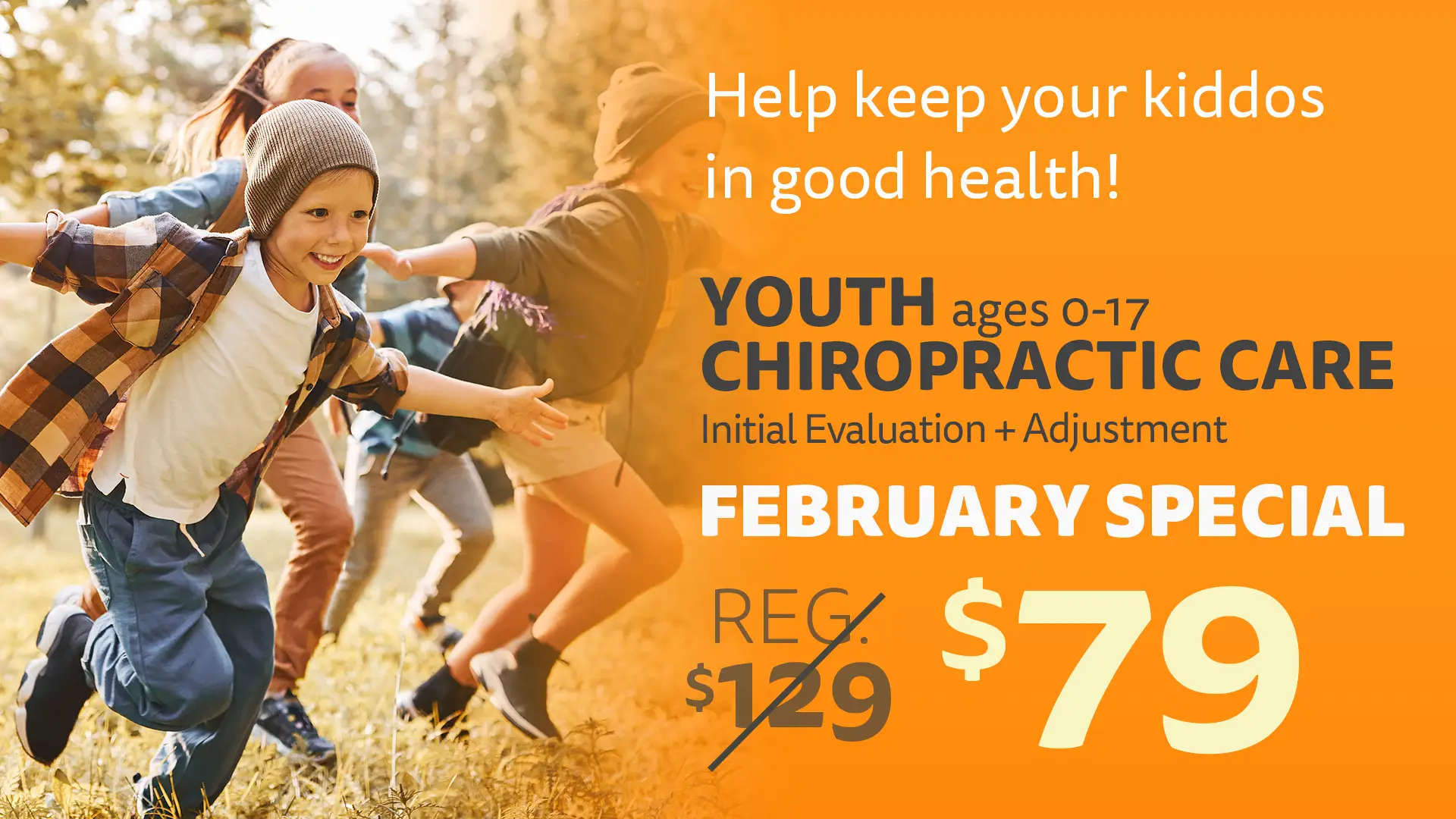 February Chiropractic Care Special
For the month of February, all youths up to age 17 will receive their initial evaluation and adjustment for only $79 (regularly $129). This initial eval includes an our INSIGHT scan, full intake assessment and adjustment. We want to help your kiddos start the new year in good health! Chiropractic Care services are available at the Thrive Virginia Beach Market Square location.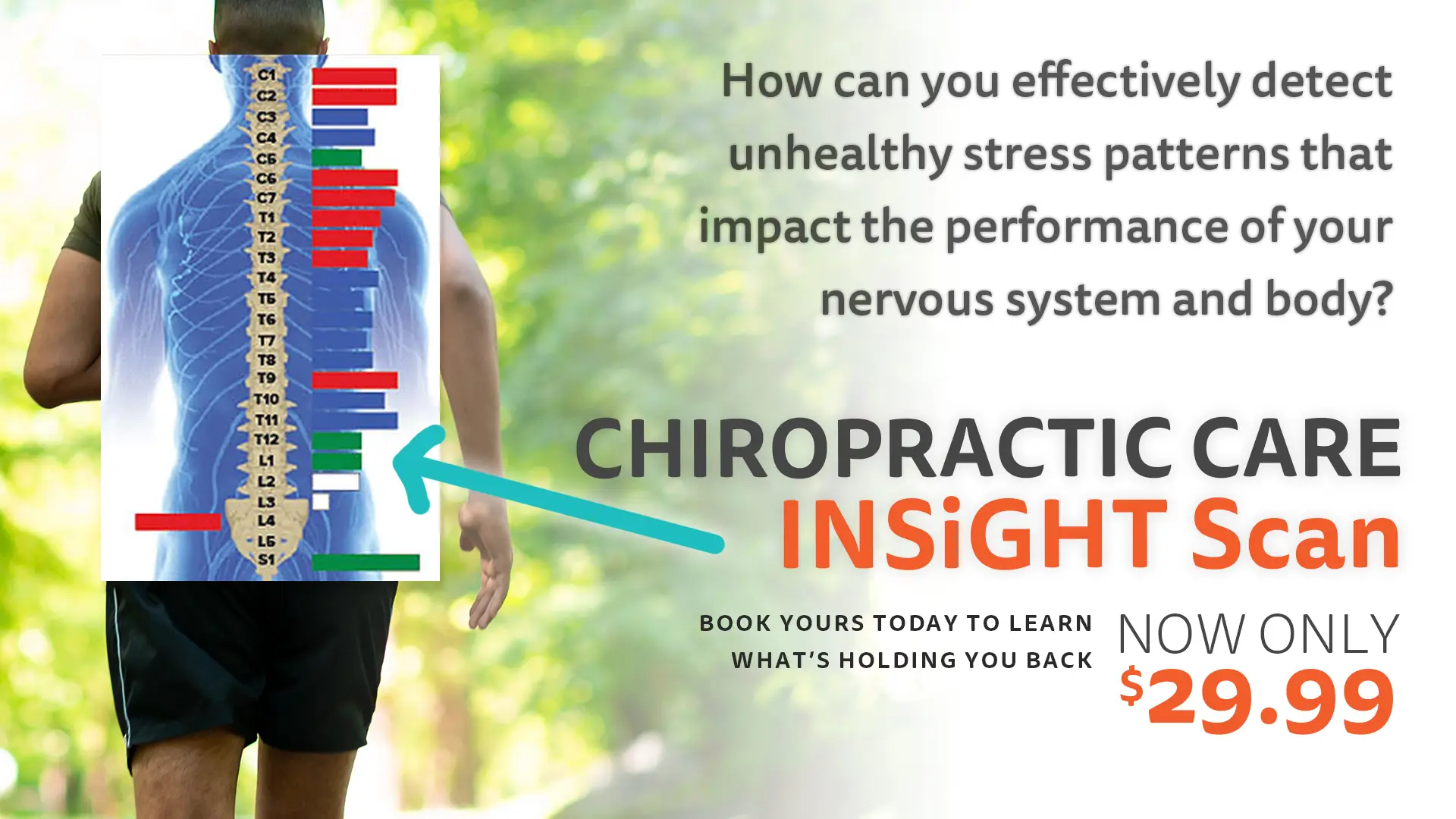 Gain INSiGHT Into Your Health
With our INSiGHT™ NeuroTech diagnostic technology, you'll learn where you're experiencing pressure on your nerves, the root cause of your unwanted muscle tension and how your body is adapting/reacting to stress. It will also help highlight the exact location of dysfunction or imbalance that may be at the root cause of negative symptoms.
This 30 minute appointment includes a 15 minute scan and a 15 minute review of your results with Dr. Josh. As an added bonus, you will also receive a FREE 15 minute Chiropractic Consult. NOW ONLY $29.99! Chiropractic Care services are available at the Thrive Virginia Beach Market Square location.
The spine and nervous system are the pathways through which your brain and organs communicate. When the spine is misaligned, various tissues and nerves can get pinched. This interferes with the vital communications that are going on within your body and the end result is pain, illness and ailments that sap your energy and tax your health.
What makes Thrive different? Our aim is to identify the cause of your pain and help you address the issues at their root cause — we're not here just to treat symptoms.
Through precise and controlled techniques, adjustment to the vertebrae will put it into proper alignment. The result is a reduction in swelling, blockages, and nerve stress, which allows the nervous system to function properly.
By improving alignment, blood flow and nerve conductivity to joints and muscles, your body can facilitate its resilient self-healing properties. Dr. Josh is happy to discuss your symptoms, conduct an evaluation, and explain how this service can help relieve symptoms and improve your health.
Gentle techniques can be used on pregnant women, children, and even newborns.
Advanced INSiGHT™  Scanning: Making the Invisible, Visible
Innovative chiropractic scanning technology provides unique insights into your spine health, nerve conductivity, neuromuscular control, and how your body is handling stress. Our technology will show us if there is any strain on your nervous system and how it is affecting your organs, glands, muscles and energy level.
We will be able to detect and pinpoint abnormal functions, which cannot be seen on X-ray and are generally not felt in the form of pain until the damage is severe, much like a heart attack. This technology helps us optimize your chiropractic plan of care and will help you to see and measure your progress over time.
Chiropractic Care Services
Available only at Thrive's Virginia Beach Market Square location.
20% discount offered to military, first responders and healthcare workers for all cash-based services. 
~~~ Ask About Our Membership Plans & Packages ~~~
Membership Plans and Packages offer our services at reduced rates and allow for additional discounts.
Chiropractic Care Applications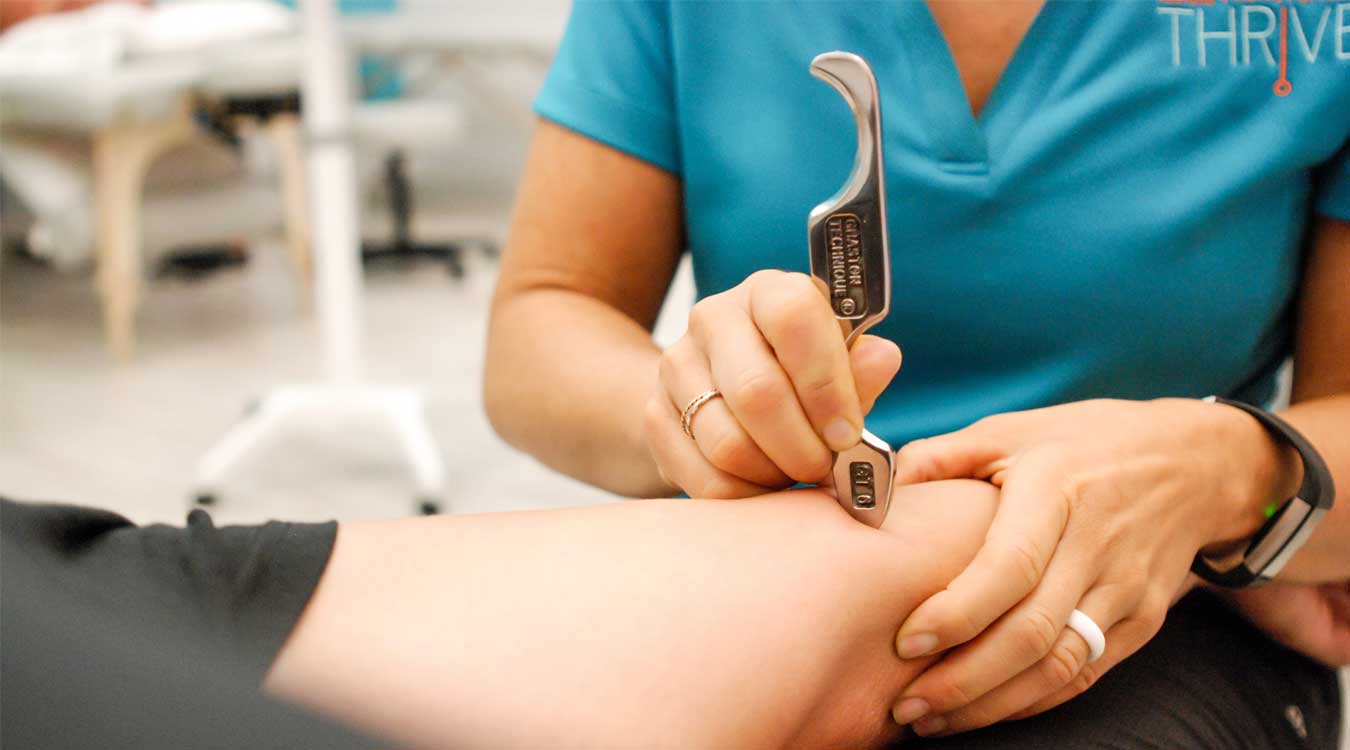 Graston Technique®
An instrument-assisted soft tissue mobilization tool known for its success in effectively treating all soft tissue conditions.
Vacuum Cupping
Soften tight muscles, release toxins and improve blood flow to tissues with vacuum cupping. This holistic form of alternative medicine applies vacuum pressure with cups to lift the connective tissues away from the skin.
I met Dr. Josh on March of 2022, after dealing with shoulder pain for 2 years. I had been to countless physical therapists, orthopedic doctors, and osteopathic doctors and was discouraged that no one could figure out my issue. At our first consultation, Dr. Josh spent over an hour listening to my previous injuries and assessing my movement patterns and diagnosed my issue in just ONE appointment. I wish I would have found him sooner because after just a few appointments I am finally pain free!
Dr. Josh understands his patients and that they want to get back to normal life or training as soon as possible and works with your lifestyle. I even had him start adjusting my daughter when she was 7 months old. If you are looking for the most knowledgeable and caring person, then look no further. My entire family now sees him and my husband and I both wish we had found him sooner! Plus his assistant is always quick to respond and helps you get in to see him as soon as possible. This is the best team I have ever worked with!"
Jess E.
I had been searching and trying out Chiropractors in the area when mine moved away for quite awhile. There were many tries but I did not get the results and care I was looking for until I found Dr. Josh. I appreciated the methodology, experience and skills he brought when treating me but I also was especially touched by his compassion, care and sense of humor. He always made me feel comfortable and at ease as we discussed and addressed my health concerns. I trust him 100% and would recommend him to anyone seeking chiropractic care.
Phyllis W.
My lower back was so messed up my husband had to put my shoes on because I couldn't do it! Dr Josh worked with me until we got it straightened out. As I got better, he gave me stretches and exercises to do that would improve my mobility and ultimately keep the injury from happening again. He taught me the best way to pick things up, how to get out of bed in the morning, the best sleep position, and more. He isn't just a crack-and-go doctor, he looks at the whole body, the lifestyle and habits of his patients and works to improve the overall system. He was patient and thorough and I'm very glad to recommend him to anyone I meet!
Brooke T.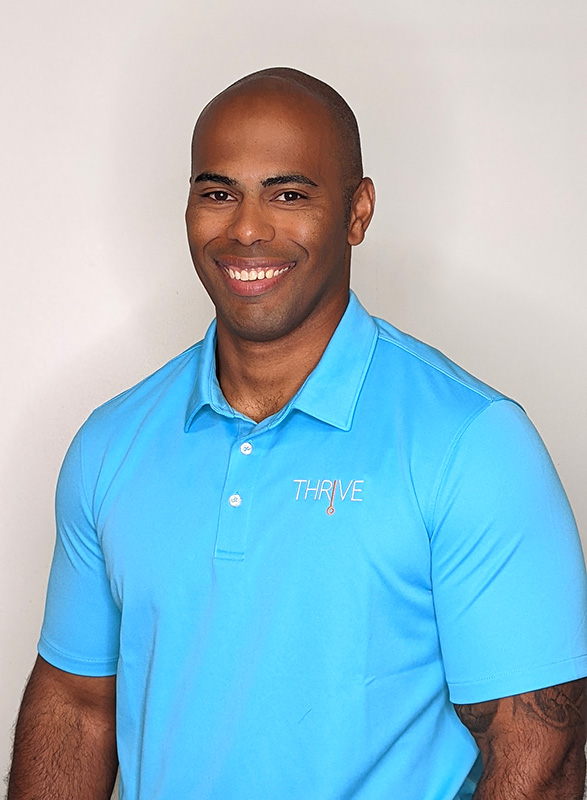 Dr. Josh Collingsworth, Doctor of Chiropractic, Webster Technique Certified, IASTM Certified
Dr. Josh was raised in Virginia Beach, Virginia where he attended Cape Henry Collegiate. He went on to receive his Bachelor of Science with a concentration in Kinesiology from Longwood University. During summer vacation between his junior and senior year of college, Dr. Collingsworth was involved in a five-car pileup where he was in the lead car. Due to the excessive forces of that accident, Dr. Collingsworth was left with excruciating back and groin pain. After talking to an orthopedist, the only treatment that was offered was pain medications, muscle relaxers and physical therapy. However, his dad, Larry Collingsworth Jr., suggested he see a chiropractor. Acting on this recommendation, Dr. Josh visited a chiropractor, which was the start of his chiropractic journey. Within six weeks of routine adjustments and acupuncture, he was feeling even better than he did prior to the injury. He was able to return to playing lacrosse, doing CrossFit, and running. He credits chiropractic for giving him his life back and wants to be able to help others do the same.
Dr. Josh then went on to Palmer College of Chiropractic in Port Orange, Florida where he graduated with a Doctorate in Chiropractic in December 2017. While at Palmer, he was class representative, active in the sports chiropractic club as well as a campus guide where he spoke to guests of the campus about chiropractic. While he was a chiropractic intern in the outpatient clinic he became certified in both Extremity Adjusting and the Webster Technique.
Today, Dr. Josh lives in Virginia Beach with his wife and their two young boys. He enjoys spending time with family, rock climbing, doing CrossFit, attending country music concerts, traveling, and watching and participating in all competitive sports.
Frequently Asked Questions
About Chiropractic Care at Thrive
How do I know if chiropractic care is right for me?
At Thrive, we understand that trying to find solutions to your health problems can be overwhelming at times. This is why we offer a complimentary 15-minute consultation to discuss if we are able to help you.
Once I start, do I need to continue with chiropractic care?
One of the more common questions we receive is, "Why do I need to keep going to the chiropractor?" Would you only go to the gym once? Would you only eat healthy once? Would you do any other health habit only once? As we move, eat and think throughout our day, we are constantly adapting to various stressors.
What we know is that the body physically manifests different areas of stress depending on what our daily habits are. We can choose to allow the stresses to build up, or we can nip things in the bud before they get bad. That allows the body to work optimally so we can function at a higher level.
Our care should only continue for as long as it is serving you to become a better, healthier and more vibrant you. Typically, patients do choose to stay with us for general well-being care because they like the way they feel and function following a chiropractic adjustment. We only want to be of service for as long as we are an asset to your life.
Do you offer exercises and things to do at home to support my chiropractic care?
Yes, in addition to your chiropractic care in the office, Dr. Josh is knowledgeable in a variety of massage, stretching, functional movement, strengthening and exercises for you to be doing on your own to ensure you get the best results.
Is chiropractic care safe while pregnant?
Absolutely. We have special pillows and tables to create ease for pregnant women to get adjusted throughout all stages of pregnancy. Getting adjusted can create better birth outcomes, easier labors, and optimal positioning and nerve supply for the baby as he or she grows and develops. Chiropractic care can help prevent discomfort such as sciatica and round ligament pain for moms whose bodies are changing.
Why would I get my kids checked by a chiropractor?
We recommend that children be checked from birth. Our current patients who are with us during their pregnancy receive a complimentary at-home adjustment within the first two weeks of their birth and a complimentary newborn "Welcome to Earth" check as well. All births, whether long or short, natural, assisted, or cesarean can put a lot of stress on your baby's spinal cord and nervous system. Even the baby's position in the womb can have an early effect on spinal alignment. When these tiny infants begin to grow, learn to crawl, and eventually walk, freshly developed motor patterns often lead to numerous slips, falls, bumps and bruises. Chiropractic adjustments are crucial to helping keep kids in alignment through these fast changing years.
How much does the initial chiropractic care visit cost?
Our initial chiropractic functional analysis will take approximately 45 minutes to complete from start to finish. Upon completion, Dr. Josh will decide whether or not you need to be sent for X-rays. The cost of the full exam and doctor's report is $129. Following the exam and any necessary X-rays, we will design a custom care plan just for you.
Do you take insurance for chiropractic care?
Currently, Thrive does not bill insurance for chiropractic care. We are hoping to add this payment option in the near future. As of right now, we are accepting HSA, FSA, Care Credit, cash, check and all major credit cards for chiropractic care.
Should your insurance plan allow for you to submit for reimbursement, we are more than happy to supply you with the diagnostic and treatment codes that are used during your service, which may be needed in order for you to receive reimbursement from your insurance company.
Can I use my membership or package to pay for chiropractic care?
Yes! You are able to use your Thrive membership/package for chiropractic services. Our memberships cover all services (15-, 30- and 60-minute appointments) of chiropractic care. We encourage members to start a monthly membership to assist with monthly consistency in appointments and care. Ask our front desk staff for more information.
What is the cracking/popping sound during a chiropractic adjustment?
Not all adjustments create a "crack." However, the audible sound commonly produced during traditional chiropractic adjustments is the release of gas (nitrogen and various other chemicals) from synovial joints; the release of these chemicals relieve muscle tension, calm down the nervous system, decrease pain and boost adaptation of the body. This gas can be built up from poor biomechanics associated with vertebral subluxations.
What is a subluxation?
A subluxation is when one or more bones of the spine have increased tension or compression and cause interference to the communication of the nerve system and other structures. When the nerves are in an irritated state they can cause symptoms such as pain, heat, swelling, tenderness, tingling, burning and numbness. If you are experiencing any of these symptoms, you may be suffering from a very correctable subluxation.
Can a subluxation cause symptoms other than musculoskeletal pain?
Yes! We see patients who have experienced relief from migraines, numbness, stomach issues, even multiple sclerosis and Parkinson's. In 1895, the first chiropractic patient was a deaf man who had his hearing restored from a chiropractic adjustment. The adjustor, DD Palmer, thought he had found the cure for deafness. However, as he began to adjust more and more deaf people, he quickly realized that he did not have the cure for deafness, but that his adjustments were having a tremendous effect on the nervous system. Every organ, muscle, and tissue in your body has nerve supply, and nerves originate from your spine! A healthy spine equals a healthy nervous system.
I'm not feeling 100%. Should I reschedule my appointment?
We encourage everyone to use their best judgment and keep your distance if you are feeling sick. We also know that many people are better able to adapt to run-down immune systems and feel better when they can relieve stress and tension in their bodies. We recommend that if you are feeling sick to give us a call so we can help you determine what is right for you.