The Difference Between Medical Massage and Spa Massage
Have you ever wondered about the difference between a medical massage and a spa massage? We had one of our certified massage therapists, Chantal, discuss the differences to help better understand. While one might think all massages are alike that is not the case. Medical massages and spa massages have differences in their purpose, training, techniques used and the results of the massage. Here at Thrive our massage therapists specialize in both medical and spa massages. Our goal is to educate you on the differences in order for you and your therapist to select the best massage for your needs! Learn about the difference between a medical massage and spa massage below.
PURPOSE AND INTENTION
MEDICAL MASSAGE
Medical massage has a corrective expectation with a specific outcome in mind. It is designed to prevent damage and to limit progression/restore normal body function after an injury or a musculoskeletal condition. Medical massage focuses on injuries that are compromising movement therefore causing serious limitation to daily activity and quality of life. Medical massage can significantly improve chronic or acute conditions such as but not limited to back pain, neck pain, headaches, shoulder pain, hip pain, carpal tunnel syndrome, sciatica, scoliosis, fibromyalgia, muscular sprain and strain, plantar fasciitis, frozen shoulder, insomnia, and pre or post surgeries. Medical massage is commonly recommended for pain management, stress relief and anxiety driven physical symptoms. Because this type of massage may be prescribed by a physician and involve insurance companies, workers comp, lawyers, and other medical professionals these treatments may be covered under certain restrictions and circumstances by HSA/FSA plans or be eligible for reimbursement in injury cases.
SPA MASSAGE
Spa massage is an overall wellness treatment with the purpose to relax the mind and body in order to manage minor common stressors or to enjoy as a self care routine. Someone requesting a Spa massage most likely will present with no complaint or necessity to focus on a specific body part in order to relieve pain. A Spa massage is also known as a "feel good" massage. This type of massage can also be scheduled in addition to or alternatively with medical massage sessions. Generally speaking Spa treatments will not be covered by insurance or health saving accounts.
TRAINING AND TECHNIQUES
Even Though a licensed massage therapist will be proficient in many styles by trade the significant differences in the purpose and intention of both types of massages will require the therapist to have specific training. The different needs of the clients and the facilities where these massages take place will impose on the massage therapist to learn skills, develop experience and select appropriate continuing education training in order to gain expertise.
MEDICAL MASSAGE
By nature a medical massage will require a massage therapist to collect a client's general and specific health history therefore comply to HIPAA. Therapists must assess mobility, range of motion and muscular imbalances while taking proper notes to measure progress, identify setbacks or triggers, communicate with  the different parties involved in patient care, and follow the guidelines provided by other medical professionals orders. The techniques a medical massage therapist will be prone to use are deep tissue, myofascial release, sport's techniques and PNF stretches, neuromuscular, trigger point and lymph drainage to name a few. The therapist will also use tools such as but not limited to cupping, Zuka, hypervolt, hot pack, ice, or a fascia blaster and the use of specific creams, gels, ointments and oils with soothing and pain relieving ingredients. A medical massage is expected to include deep pressure beyond muscle feedback, long strokes and cross fiber friction, rolling and vibration to help separate restricted connective tissue.
SPA MASSAGE
A Spa massage will focus on general techniques and gentle strokes to include a whole body experience from face and scalp to the feet, sometimes including abdominal massage, with an equal pressure throughout to ensure flow and consistency every time for every client. The techniques can include facials, wraps, hot or cold stones, scented products for relaxation and a hand pressure that does not exceed the client's pain threshold. These whole body treatments can also be enjoyed as a couple for special occasions and celebrations, and offered as gifts. These treatments only require little health history data however more focused on general health to ensure no contraindication for massage. A Spa massage will often be provided with a consent release form to allow treatment at the client's own risk and discretion.
OUTCOMES AND RESULTS
The outcome and results between the two types of massage are undeniably distinct.
MEDICAL MASSAGE
A medical massage has an emphasis on correcting a musculoskeletal problem affecting normal daily activities along with restoring or resetting someone's mental and physical being. Medical massage often times will be labelled as a "good hurt" massage that may feel very uncomfortable during the session yet effective with a delayed positive outcome. A medical massage will be more measurable and evaluated through objective tests and scales. A desired outcome is for the client to regain full joint range of motion without pain or discomfort, and the ability to return to normal daily activities, work schedule and any routine with a sustained mental and physical demand. A medical massage is also intended to build resilience and offer a client education on body mechanics influencing or contributing to a problem. This type of massage involves a relationship with a client over the course of multiple appointments that involves in depth conversation in a holistic approach to provide input, perspective and solution to prevent setbacks and/or maintain progress.
SPA MASSAGE
A Spa massage intent is for general relaxation and wellbeing to revive or recover from general life stressors. A Spa massage is based on the feeling of relaxation a client will be able to achieve after a session. There is no expectation other than ensuring a client satisfaction for resting in a quiet and serene atmosphere with a "pampering" approach focused on his or her every need from offering a hot beverage, something to eat and or a little take home gift. The Spa massage will leave a client feeling spoiled.
As you can see, under the umbrella of massage therapy known for its restorative and therapeutic means, one can seek soft tissue manipulation to overcome an injury, address excess muscle tightness, calm down a hyperactive nervous system, help unlock deep rooted emotional traumas or simply feel spoiled. There is a number of massage modalities suitable for every need however the purpose and intention, amount of knowledge, skills, training and the outcome vary. Therapists requirements to practice one modality over another to address specific health issues range from basic to advanced education. Come in and visit us to experience the difference between a medical massage and spa massage for yourself!
OR CALL (757) 416-6700 TO BOOK YOUR PERSONALIZED MASSAGE WITH CHANTAL!
Meet Chantal
Chantal is a Certified Massage Therapist, as well as Certified Clinical Aromatherapist and Reflexologist. She has been practicing for 10+ years, but her passion for healing and helping others started when she was very young. She strongly believes in the healing power of touch and adores her craft. Chantal is a humble provider that cares for others physically, mentally, and emotionally. Through her artistic and intuitive bodywork, she offers the sum of her own life experiences, skills and knowledge to provide clients with the most valuable session that they can receive for ultimate mind + body healing.
Thriving Magazine • Men's Health Issue
Most of us have, at least, a vague idea of what we need to do to live healthy lives. We may also have the best intentions to take action to make ourselves healthier. Unfortunately, we may not be successful because many of us, though ambitious, set ourselves up for failure. This edition of Thriving Magazine is all about men's health and wellness, and how making small changes to your every-day routines can greatly influence your overall health.
Articles are written by our experts in Lifestyle Medicine, physical therapy, fitness training, chiropractic care, nutrition, massage, acupuncture, Chinese medicine, and energy healing.
More Articles to Help You Thrive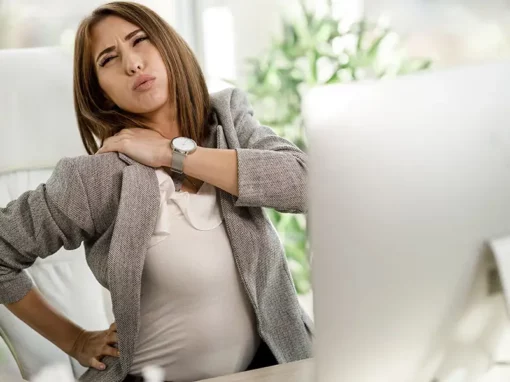 In today's world, many of us spend a significant portion of our day working at a desk or in front of a computer. However, long hours of sedentary work can take a toll on our bodies, leading to discomfort, pain, and decreased productivity. This is where workplace ergonomics and chiropractic care come into play. So, why are workplace ergonomics ...