for those seeking pain or muscle tension relief, increased mobility, enhanced sleep quality and improving muscular balance
Available at both of Thrive's Virginia Beach locations: Market Square & Kempsville.
20% discount offered to military, first responders and healthcare workers for all cash-based services. 
What Makes Thrive the Best Choice for Your Recovery Services?
As part of an integrated approach, Thrive's expert team of physical therapists, chiropractor, massage therapists and fitness coaches are all trained in providing recovery services. Whether from a strenuous workout, overexertion or experiencing increased tension, our recovery services will help your body feel and move better.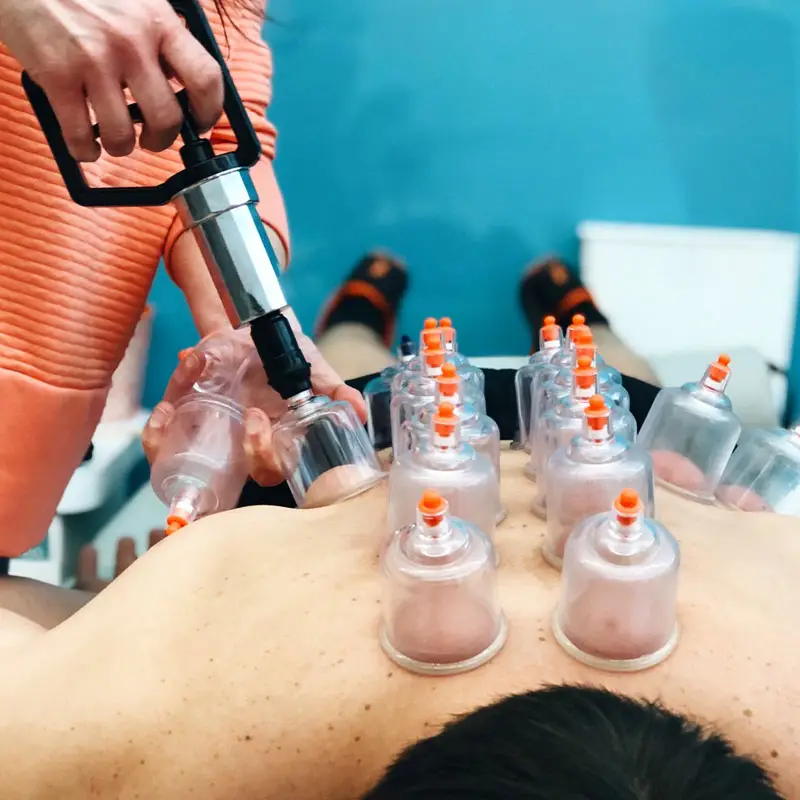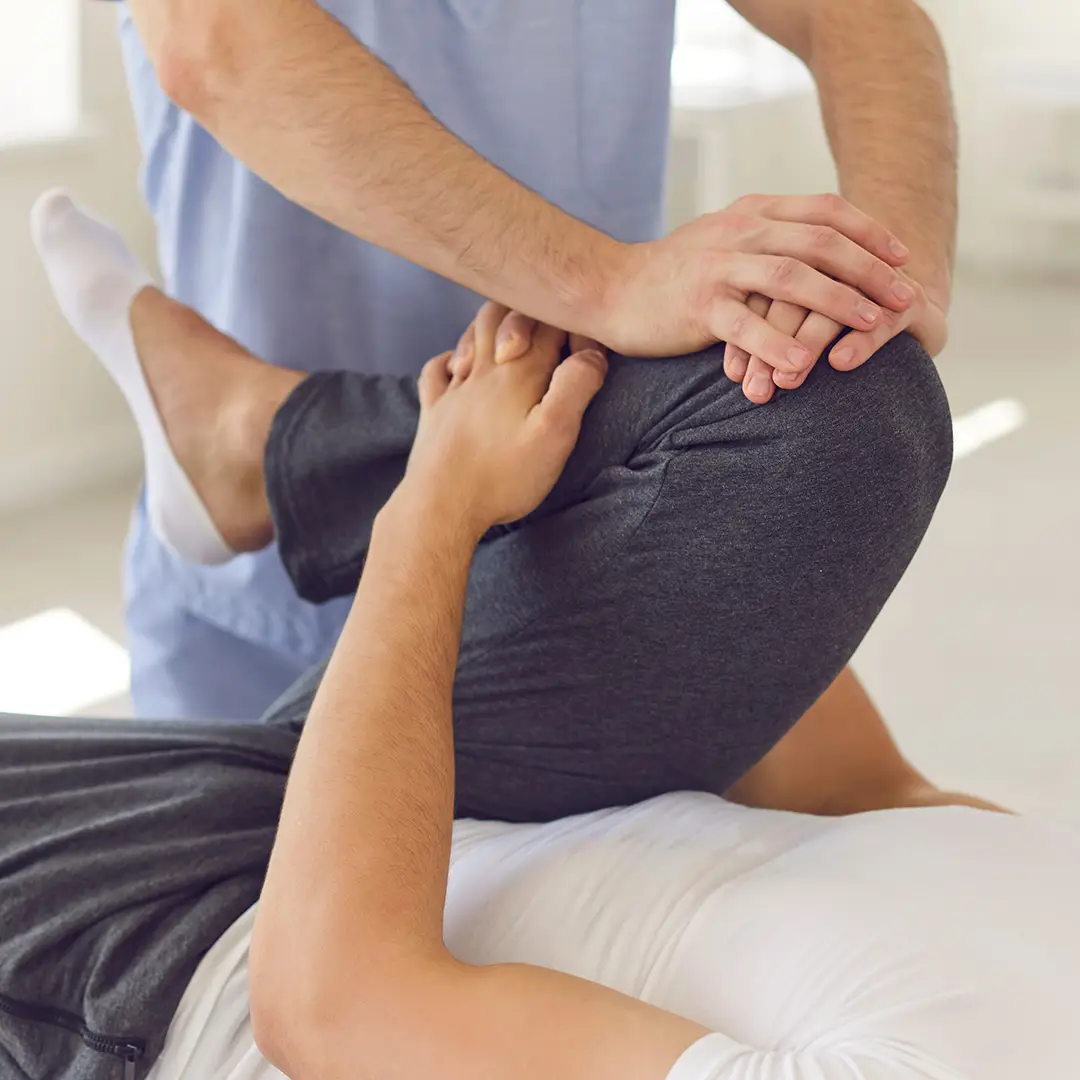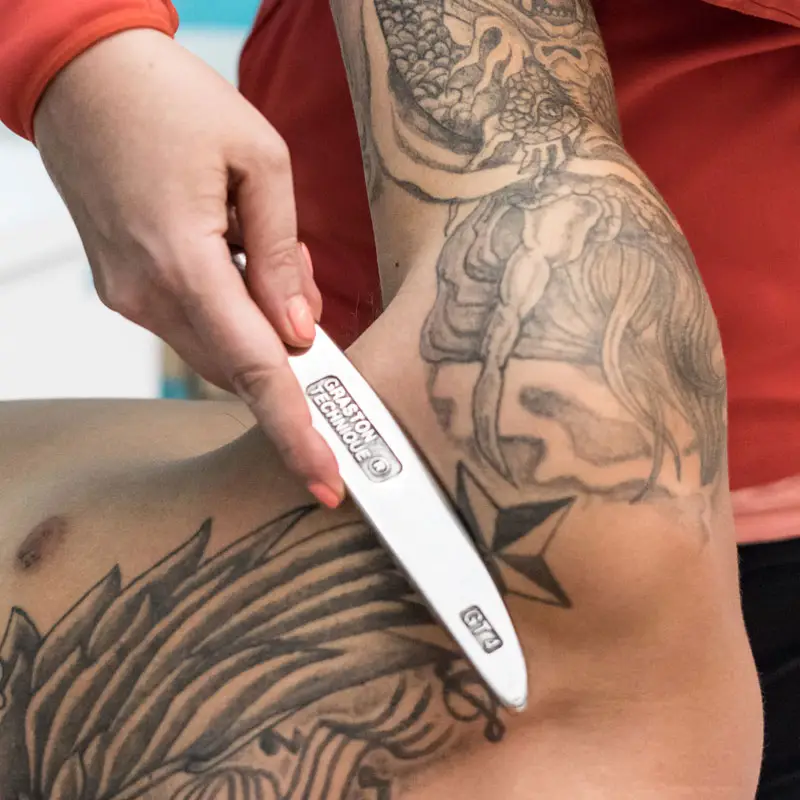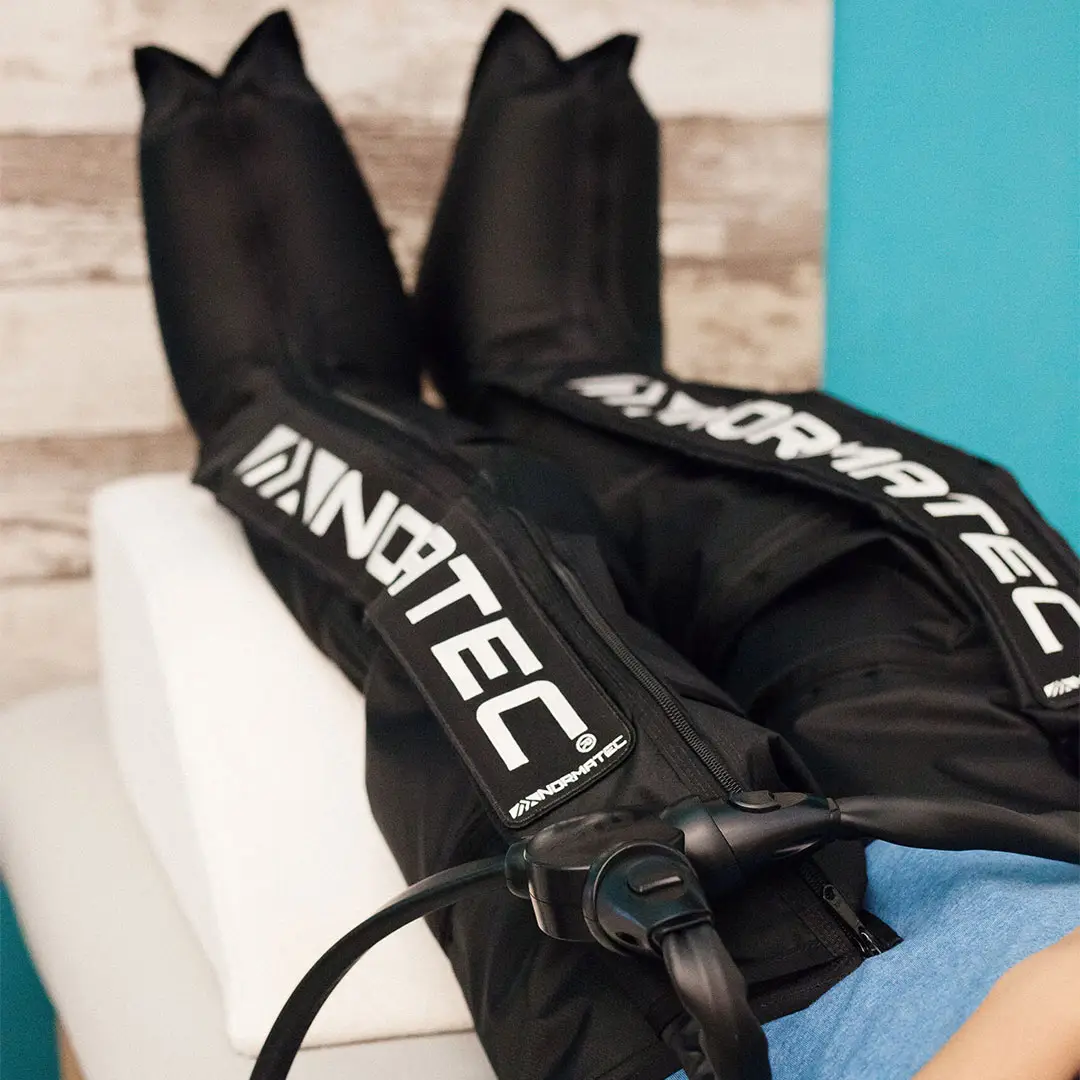 Book Your Session Today and Start Feeling Better!
Quick Fix Vacuum Cupping Therapy
30 minutes $49
Select one area to be cupped. Walk-in appointments generally available.
Quick Fix Recovery Cupping Therapy
30 minutes $59
Select one area to be cupped, then one of the following treatments based on your needs: instrument-assisted soft tissue mobilization, Hypervolt massage gun, or Normatec compression boots.
Signature Recovery Cupping Therapy
60 minutes $89
For those looking to receive a variety of recovery techniques including dry needling, cupping and soft tissues release.
Professional Assisted Stretching
30 minutes $59 / 60 minutes $89
Professional Assisted Stretching will help increase your flexibility and mobility, reduce muscle and joint pain, improve your athletic performance and improve your posture. 60-minute session required for full-body stretching. Stretching is a great way to get your body moving. If you find yourself unable to move with ease during your daily routine, or want your stretching to be more effective, our professionals can help! Beginning with a full-body screen, we will determine what areas need to be released in order to reduce restrictive movement, and help you move more efficiently. 
Additional Recovery Therapies
Graston Technique®
An instrument-assisted soft tissue mobilization tool known for its success in effectively treating all soft tissue conditions.
Dry Needling
Powerful in treating soft tissue dysfunction, pain, neuromuscular injury and imbalance — dry needling can boost the process of returning your body to a state of balance.
Vacuum Cupping
Soften tight muscles, release toxins and improve blood flow to tissues with vacuum cupping. This holistic form of alternative medicine applies vacuum pressure with cups to lift the connective tissues away from the skin.
Theragun®
Known as the NBA's secret weapon, the Theragun® works to loosen tense muscles, relax tendons, improve mobility and more!
Normatec Compression Boots
Use dynamic air compression to advance your wellness, recover faster, improve your training, and maximize your performance. Helps to increase circulation, revive muscles, and reduce swelling.
You may also use our chat feature or call to schedule your appointment.
Frequently Asked Questions
About Cupping Therapy at Thrive
What kind of cupping therapies do you offer?
Thrive Proactive Health offers three different forms of vacuum cupping:
Functional cupping incorporates a formal screening assessment, which determines the best position to get the fastest release and unlock specific muscle chains. You'll be placed in strategic, functional positions while the cupping therapy is applied. This recovery session works to restore specific movement patterns that may be limited during workouts, training or everyday life.
Glass cupping offers holistic benefits similar to acupuncture. Movement may be applied to the cups to stimulate and restore the flow within the body. Aromatherapy can be added to this service for no extra charge.
Fire cupping incorporates the use of fire/heat in a painless way to alleviate chronic pain and other health conditions. It incorporates a degree of warmth with the flame, which adds additional benefits such as opening the chest and lungs, halting migraines, and alleviating cramps.
How do I schedule a cupping session?
At Thrive, cupping is incorporated into our Physical Therapy and Signature Massage treatments, as well as being able to book as a stand-alone treatment. When scheduling, be sure to speak with our front desk to ensure that you are choosing a service that features this technique.
Do you offer different kinds of cupping treatments?
We perform several kinds of cupping, use various size cups, and sometimes incorporate a vacuum machine to assist with larger muscle groups. We also integrate functional positions when cupping to shut off hyperactive muscles that are preventing mobility in other areas. Fire cupping adds additional benefits such as opening the chest and lungs, halting migraines, and alleviating cramps.
Will cupping give me bruises?
There is a common misconception that cupping breaks capillaries and causes bruising. Cupping does not create bruises–bruises are caused by impact trauma and breakage of capillaries; thus, the circular marks that are sometimes left by cupping are not bruises.
What are the circular marks left by cupping?
The marks that may occur with cupping are caused as the vacuum pressure draws up old non-circulating stagnant blood, cellular debris, and other pathogenic factors found within an injured or strained area of your body. By bringing this metabolic waste and inflammation to the surface, it allows for healthy circulation to be restored to affected area. It is also important to note that not all forms of cupping leave marks.
Why are some of my cupping marks darker than others?
The darker the mark, the more stagnation and toxins that were released and brought to the surface. If the tissue is healthy, the less coloring the marks will leave on the skin after treatment.
MARKET SQUARE
2830 Virginia Beach Blvd.
Virginia Beach, VA 23452
Directions
HOURS
Monday • 9am - 7pm
Tuesday • 9am - 7pm
Wednesday • 9am - 7pm
Thursday • 9am - 7pm
Friday • 8am - 4:30pm
Saturday • 9am - 2pm alternating
Sunday • CLOSED
CONTACT INFO
(757) 364-0067
Fax: 757-416-7777
KEMPS RIVER
1320 Kempsville Road
Virginia Beach, VA 23464
Directions
HOURS
Mondays ONLY • 11am - 7pm
CONTACT INFO
(757) 364-0067
Fax: 757-416-7777