Building Strength and Community
by Brian Grilli • Restorative Fitness Coach
With spring here and summer approaching, the opportunities to get outside and do outdoor activities are abundant. And while we still have COVID precautions to consider, it's important to understand that social interaction is beneficial to our mental and emotional health.
In today's world, however, with COVID-19 still looming and a lot of us unsure of where we are headed, we may find it difficult to know how to approach that new "freedom".  The one thing that remains a constant, that should be of greatest importance to us, and that we still have influence over, is what we can do about our HEALTH! The American Psychological Association conducted a study where 49 percent of adults felt that they would be uncomfortable returning to in-person situations at the end of the pandemic. Of those who received the COVID vaccine, 48 percent felt the same (Newsome, 2021). That feeling is something with which we need to make ourselves comfortable being uncomfortable. Life is too short to be hesitant and social interaction is too beneficial to our mental and emotional health not to address it.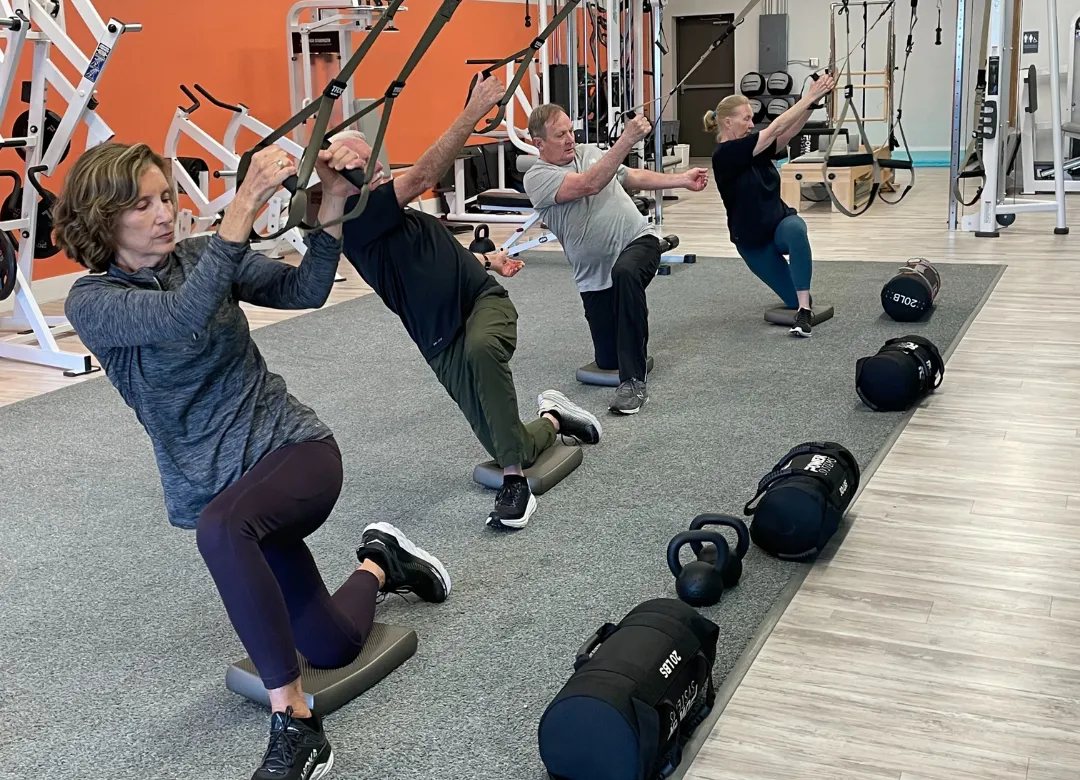 One of the things I've always experienced, both before the pandemic and throughout it, is the important role the gym can play in developing fitness AND community. 
Small Group exercise especially, can serve an invaluable role in accomplishing both.  Small Group Fitness programs have been, for many clients, not just beneficial to their physical health, but in some cases, of equal benefit to their emotional and mental wellbeing. An exercise program that includes a well- rounded workout, focuses on resistance as well as endurance, and also creates comradery and builds relationships is a win-win for everybody involved. According to (Health and Human Services, 2018) The American College of Sports Medicine (ACSM) and The Center for Disease Control (CDC) recommendations state that: All healthy adults aged 18–65 yr should participate in moderate intensity aerobic physical activity for a minimum of 30 min on five days per week, or vigorous intensity aerobic activity for a minimum of 20 min on three days per week. 
Every  adult  should  perform  activities  that  maintain  or  increase  muscular  strength and endurance for a minimum of two days per week. Here at Thrive our Small Group Fitness Classes are just that small! We train up to 4 people per group and you're not in a huge, intimidating space with 20+ strangers in a closed-off room. It's an intimate yet open environment for you to work out with friends and even make new ones! And if you feel like you haven't moved enough over the last several months, what better way to get back to it.  Sign up today with Restorative Fitness to experience a Small Group Personal  Training session for yourself!
And GET MOVING (BETTER) TODAY!
Our mission is 
to inspire, equip and move 
clients to transform, redefine or optimize their health.
2830 Virginia Beach Blvd. Virginia Beach VA 23451