Thrive is Your Wellness Partner
It is our aim to empower people of all lifestyles to be proactive with their health and live a balanced, resilient life.
Thrive Proactive Health is a locally-owned, premier health and wellness clinic with two offices in Virginia Beach. We offer science-based, integrative treatments and are devoted to personalized care. 
Thrive is a team of committed and hard-working professionals devoted to the healing, performance, and empowerment of our clients supplied by our dedication to proactive health, personalized services, and a conviction towards delivering the results they need to thrive at home, at work, and in competition.
We strive for excellence.
We hold high standards for ourselves and focus on the constant improvement of our practice. It is our promise to strive to understand and satisfy the needs of your health. We deliver what we promise.
We provide innovative care.
We develop strategic and creative solutions for all of clients. Healthcare and technology are ever-changing and advancing and we are continuously deepening our knowledge and embrace innovative approaches.
We believe in the power of teamwork.
We've created a culture that encourages and thrives off of 'togetherness.' We believe that when our team works together, you receive the best care and most successful results. Support, respect, and trust within our team ensures that we're working with a common purpose for your needs.
Julie Blandin
PT + ATC + CSCS + PRC • PROVIDER
Biomechanical Specialist and Movement Expert
Dante Leone
DPT + OCS + CSCS • Provider
Business Operations Director
Physical Therapy Director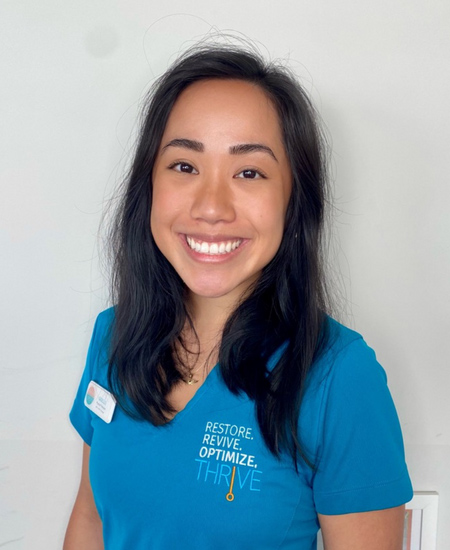 Giselle Vermilyea
DPT + RYT • Provider
Brooke Chandler
PT + DPT • Provider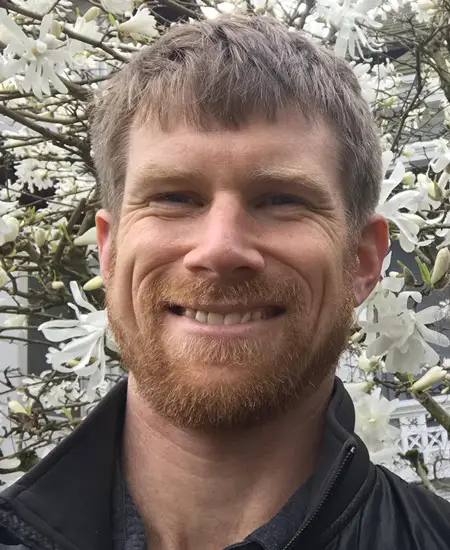 Dr. Chris Brindley
DC + MSSM + CCSP • Provider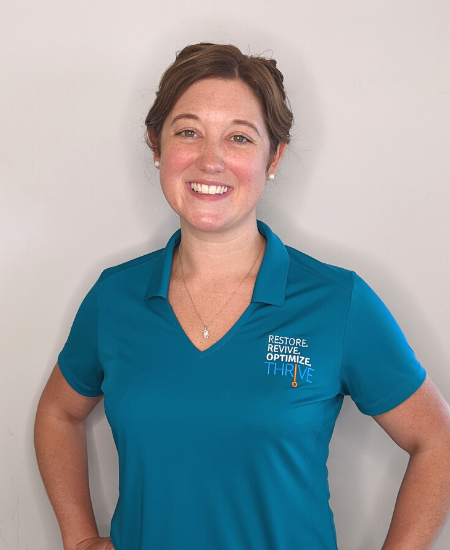 Danielle Lambert
CMT • PROVIDER
Chantal Owen
CMT + CR + CCA • Provider
Massage Therapist + Aromatherapist
Tara Thomas
LMT • Provider
Lead Front End Director
Client Onboarding
Massage Therapist
Kate Thurston
CMT • Provider
Matt Campbell
Provider
Fitness Director, Exercise Specialist
Kim Scholl
Provider
Exercise Specialist
Fitness Coach
Vivian Takafuji
PHD + LAC + DIPL OM • Provider
Acupuncturist
Chinese Herbalist
Michelle Hilliard
IINHC + OTR|L • Provider
Provider & Certified Nutritionist
Anna Eastburn
Provider
Registered Dietitian, Board Certified in Sports Dietetics
Jen Fedorowicz
Reiki Master + B.E.S.T. Practitioner + E-YRT
Energy Medicine Specialist + Yoga Instructor
Karyn Pereira
Back End Manager + Exercise Specialist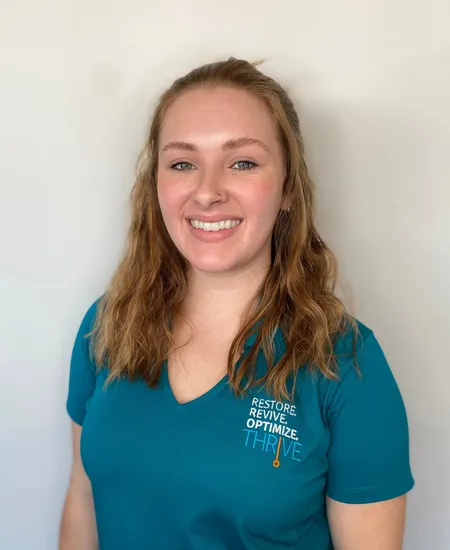 Olivia Hanawalt
Exercise Specialist
Rehab Aide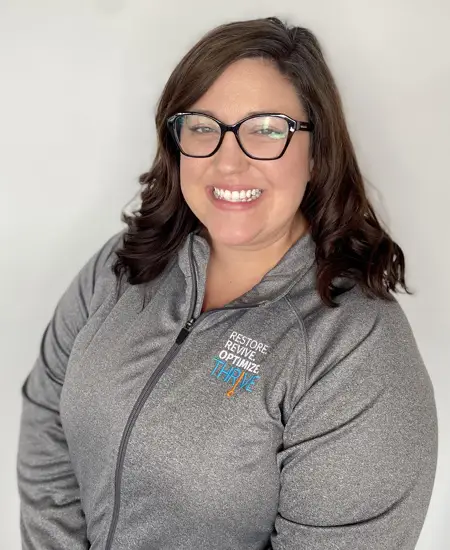 Lindsay Lopez
Marketing & Business Development Director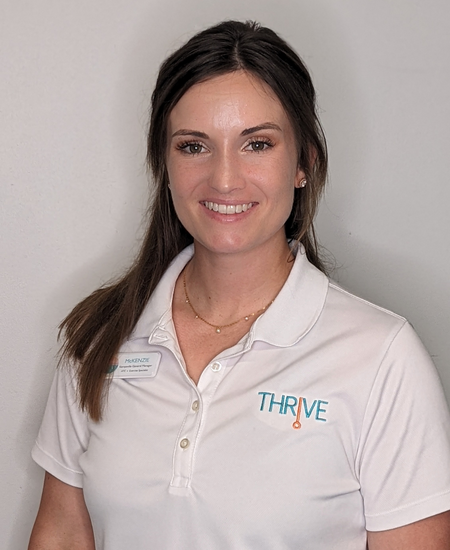 McKenzie Makar
Certified Athletic Trainer
Kempsville General Manager
Kate Spina
Administrative Assistant
Bryanna Baca
Front Desk Sales Representative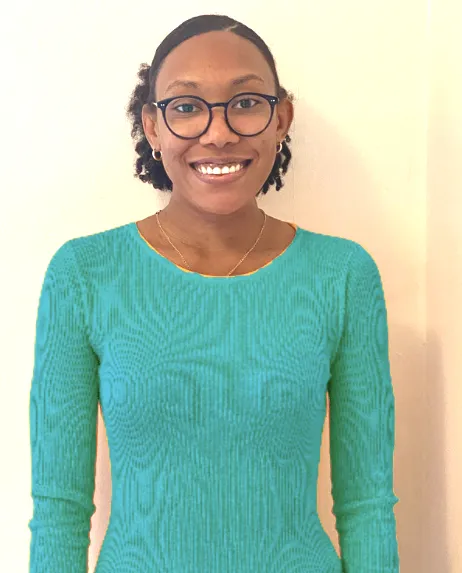 Ty Mely
Medical Billing Specialist

Julie Blandin
PT, ATC, CSCS, PRC, DipACLM • Provider 
Biomechanical Specialist & Movement Expert and Physical Therapist
Julie is an industry leading Sports Rehab and Postural Restoration® Specialist with over 17 years of experience in the Fitness and Sports Medicine industry. She is the only Hampton Roads Therapist Certified Provider in Postural Restoration®.
Through her diverse educational background and willingness to explore the unknown, Julie has developed an extensive and unique postgraduate skillset to offer you a holistic perspective on injury rehabilitation, prevention, and maintenance. Julie's expertise bridges the gap between rehabilitation and performance. She highly values and understands the integration involved in the continuum of care associated with treating athletes and patients of all ages.
She has aborted many traditional therapy techniques in the quest to learn an advanced science that offers even the toughest patients some if not complete relief.
"I love purpose, passion, and serving others. Helping people achieve their goals and the health of our team is extremely important to me. I liberate and amplify the strengths and talents of others and facilitate teamwork so that we together can exceed expectations."
– Julie
Julie's Experience
Licensed Direct Access Physical Therapist
advanced training in: 

Movement Impairments
Functional Movement
Osteopathic Manual Medicine
Pain Science
Vacuum Cupping Therapy
Anatomy Trains
Various Manual Therapies
Instrument Assisted Soft Tissue Mobilization
Certified Provider in Postural Restoration

Certified Athletic Trainer: experienced working with athletes of all levels, including: 

Weekend warriors
Elite collegiate
Professional
Tactical

Certified Strength & Conditioning Coach

Extensive Post-Graduate Study in the Postural Restoration Science

Faculty Member of the Postural Restoration Institute: teaching nationally to: 

Health Care Practitioners
Strength Coaches
Athletic Trainers
Fitness Professionals
On a personal note…
Loves boating, beach days, and country concerts
A proud military wife
Loves to eat anything Italian
Favorite movie – Fast & Furious
Favorite music – Country

Dante Leone
PT, DPT, OCS, DipACLM, CSCS • Provider
Business Operations Director, Physical Therapy Director
Dante believes in empowering people to have the knowledge and tools they need to control their health and wellness. As a healthcare professional, he takes pride in guiding his patients to improve their well-being and be able to enjoy all of life's activities.
Dante loves being able to work one-on-one with all types of people to build strong lasting relationships around the common goal of optimizing health. He understands the complex biological, psychological, and social impacts to our health, and addresses these various factors with a holistic treatment approach.
Dante has spent his career in outpatient orthopedic physical therapy, as well as an embedded physical therapist in an industrial setting. He has worked with a variety of patients, including athletes, weekend warriors, post-surgical, manufacturing, and chronic pain.
Dante's Experience
Doctor of Physical Therapy from Rutgers, The State University of New Jersey
Board Certified Orthopaedic Clinical Specialist
Certified Strength and Conditioning Specialist
Certification in Dry Needling
Pain Neuroscience Education
Certificate in Plant-Based Nutrition
On a personal note…
A proud father of two young boys, and husband of a teacher
Passionate about the impacts of nutrition on health
Dante grew up in Wisconsin, but definitely born for the beach life
Loves being outdoors, going to the beach, live music, obstacle course races/Mud runs, vegetable gardening and cooking.
Favorite music – Jam band, folk, americana, alternative, R&B, Neo-soul
Favorite movie – He loves documentaries. Some of his favorites include The Game Changers, What the Health, Forks Over Knives, A Life on Our Planet.
Dante was lucky to go to Sicily with his wife for their honeymoon, and would love to go back. It doesn't get any better than Italian food straight from the source.

Giselle Vermilyea
DPT, RYT • Provider
Physical Therapist
For Giselle, yoga has been an excellent way to balance mind and body while promoting healthy movement patterns. She aims to integrate principles of yoga with her physical therapy practice and as it ties into postural restoration. She believes that movement is medicine and everyone is capable of changing and optimizing their personal journey with health and wellness.
Giselle's Experience
Giselle's clinical experience has been largely in outpatient orthopedic physical therapy. Throughout her education and training, Giselle has aimed to dissect what motivates others to pursue healthier, holistic, and more sustainable outcomes rather than chasing symptoms.
She has had the opportunity to work with individuals of all ages and functional capacities – from military members to weekend warriors – and enjoys the challenge of creating an individualized treatment plan to optimize one's movement.
Education / Certifications / Training Courses
Doctor of Physical Therapy from Samford University in Birmingham, AL
Certified in Dry Needling
Registered yoga teacher, certified in hatha-vinyasa yoga instruction
Further education in Nutrition and Healthy Living from Cornell University
On a personal note…
Giselle has been fortunate to be well-traveled from trips with her family growing up, but would love to visit more of Europe with her husband and son! She lived in Japan for three years before moving to Virginia Beach and loved the opportunity to live abroad. She finds cultural immersion eye-opening and fascinating.
Giselle is a proud mother and military wife. She values time with her family and creating experiences with her baby boy and husband.
Hobbies include going to the beach, cooking and trying new foods, yoga, hiking, and cycling

Brooke Chandler
PT, DPT • Provider
Physical Therapist
Brooke is a Virginia beach native and has found most joy in her career by combining her expertise of manual therapy with movement to guide her patients. She is very excited to incorporate postural restoration into your plan of care to optimize your daily life. She believes there is a way to navigate your path to restore doing what you enjoy pain-free, even if it means that path looks a little different than what you imagined. She encourages all her patients to be open-minded and positive.
Brooke's Experience
Brooke has spent most of her career working with outpatient orthopedics. This has encompassed providing treatment for a variety of patients including post-surgical, athletes, weekend warriors, active duty military and families.
Education / Certifications / Training Courses
Doctor of Physical Therapy from the University of St. Augustine for Health Sciences
Extensive education in Manual Therapy courses
On a personal note…
Brooke is a proud mother, military wife, and fur mom to 2 pups.  She loves volleyball and has played since the age of 14 and now coaches. Her favorite hobbies include reading a good thriller book, traveling, and getting together with friends for karaoke.

Dr. Chris Brindley
Doctor of Chiropractic
Chiropractor
Chris brings a wealth of experience and practice to the Thrive team. He is a graduate of University of Western States holding a Doctorate in Chiropractic and a Masters of Sports Medicine. In addition, he has been practicing sports-oriented deep tissue massage therapy combined with Active Release Technique (ART) for over 12 years. This diverse background has strengthened his skills in anatomy, assessment, diagnosis, and ability to get to the root of more complex musculoskeletal issues.
An active lifestyle, including training for marathons, yoga, surfing, snowboarding, and functional weight training has enhanced Chris's knowledge of injuries, healing and recovery through firsthand experience. This has proven to be a valuable asset in helping others recover from pain and injury.
Chris has worked at Nike World Headquarters in Beaverton, Oregon and has provided on-site care at events with Nike Track and Field at national championship and world championship events. He has also been a part of the medical team in various World Surf League Pro events. Collaborating with an integrative treatment team and learning from other doctors and therapists of multiple disciplines has been an inspiring way to continue learning new skills.
Additional certifications:
CCSP Certified Chiropractic Sports Physician
TPI Titleist Golf Performance Institute Level 1 Certified
ART Active Release Technique Elite Provider
DNS Dynamic Neuromuscular Stabilization Level 1-3
USAW Level 1 Certified: Weightlifting Sports Performance Coach
FAKTR Technique Functional & Kinetic Treatment with Rehab

Danielle Lambert
CMT • Provider
Massage Director
Danielle is very passionate about Massage Therapy and its life-changing abilities. She has always worked to show people that massage is not a want or luxury, but a need. She has focused her career on educating her clients on the "why" at every opportunity. This allows her to build trust and get excellent results with her clients following her treatment plans. Danielle believes massage therapy heals not only the physical pain we experience but the mental stress that we all have to deal with in everyday life.
Danielle attended the Cayce/Reilly School of Massage in 2013. As a new massage therapist, she started at Massage Envy and gained a year of hands-on experience. She then started at Massage Green in Fairfax City where she helped build the massage program from the ground up. This included creating a care plan for the infamous "tech neck" where she worked with clients to improve their posture, headache/migraines, and stress levels that tend to increase with high-performance jobs.
By 2016 Danielle was back in Virginia Beach and loved working in the relaxing environment of a resort spa for five years while teaching massage at the Advanced Fuller School of Massage. She found Thrive Proactive Health while looking for an environment that treated the whole client and offered holistic and traditional modalities for the most effective healing. She was thrilled to join the Thrive team in 2021. She continues to educate clients and future massage therapists at Fuller in Prenatal massage, Oncology massage, and Aromatherapy.
Danielle has completed over 150 hours of continuing education classes on a variety of modalities including deep tissue, pre and post sports, neuromuscular, myofascial, reflexology, aromatherapy, hot and cold stones, pre and postnatal, infant massage and reflexology, oncology massage, hydrotherapy, a wide variety of healing body treatments, and cupping.
On a personal note…
Danielle married her wonderful husband Kyle in 2015. They have two Border Collies: Penny and Copper. They enjoy living close to family and making memories with their loved ones. They love to go on adventures, but their all-time favorite is a trip to the OBX. Sound or sea, they love any beach the best. She loves any kind of music she can dance to and can be spotted at a stoplight dancing it out in the car. She loves to read and believes that getting lost in a good book is good for your soul. Danielle is a comedy fan and loves to laugh — shows like The Big Bang Theory and Modern Family are her favorite. Her ideal free day would be a sunny day on the beach with family, a good book, and music.

Tara Thomas
LMT • Provider
Lead Front End Director, Client Onboarding, Massage Therapist
Tara is a rugby athlete, hard worker and very dedicated to growing in her career path in healthcare. She is looking to go to Massage and Physical Therapy school in the future and values personal care and proactive health as necessities for success and happiness. Tara loves working directly with patients and helping them manage their health.
On a personal note…
She is originally from Virginia Beach, the youngest of 2 brothers and 1 sister and proud Auntie.
She is a University of Alabama Alumni with a Bachelor of Exercise and Sport Science.
Tara hopes to one day visit Germany during Octoberfest.
She loves tacos and watching Christmas Special movies (not necessarily at the same time!).

Chantal Owen
CMT + CR + CCA + HT level 4 student • Provider
Massage Therapist + Aromatherapist: Pain Relief, Pain Management and Relaxation Specialist

Chantal specializes in providing pain relief, pain management and relaxation to individuals seeking to optimize their personal and professional potential, well-being, and quality of life. She has over 15 years of experience working holistically and intuitively with people challenged with acute and chronic musculoskeletal pain and dysfunctions, hormonal, digestive, autoimmune disorders and traumas. Chantal has a particular interest and proficiency working on cranium, jaw, neck, shoulders, back, hips and feet to promote individual homeostasis while addressing specific needs.
Through her own life challenges and needs for physical, emotional and mental balance, Chantal has developed a unique set of skills and a keen sense of empathy for people eager to restore, improve and maintain their health and well-being. Her mission is to support her team's work in providing peace, comfort, connection, meaning, and purpose during time of struggle, as well as physical demand and need for superior athletic performances. Chantal is a blue belt Jiu-Jitsu and kickboxing student familiar with injuries occurring during combat sports and always dedicated to provide pain relief and solutions to address this type of injuries.
Chantal has learned and mastered effective and non-invasive massage techniques that focus on the medical benefits of soft tissue manipulation, mobilization, alternative pressure and essential oils to provide superior and cumulative customized results.
"As Paulo Coelho said 'I bear many scars, but I also carry with me moments that would not have happened if I had not dared to go beyond my limits.' I embrace the belief that, in the pursuit of balance and well-being, there is no such thing that shortcut or easy fix; it requires dependability, discipline, determination and commitment."
– Chantal
Chantal's Experience
Certified Massage Therapist
Certified Reflexologist
Certified Provider in Postural Restoration®
Certified Clinical Aromatherapist
Trained Massage Cupping Practitioner
Trained In Medical, Sport, Myofascial Release, Neuromuscular, Hot Stones, And Massage For Cancer, Mastectomy, And Breast Surgeries
On a personal note…
Loves to garden, read books, and walk through beautiful parks
A French native who moved to the U.S. with her cats
Loves all things chocolate
Favorite TV Show – The Big Bang Theory
Favorite Music – Michael Bublé

Kate Thurston
CMT • Provider
Massage Therapist
Kate has a passion for bodywork byways of a love of sports medicine. She wholeheartedly intended on furthering her
journey into Physical Therapy but decided to make raising her kids her full priority. She later found herself drawn to bodywork for the same reasons she originally jumped into the PT realm. She is deeply embedded in the functionality (and processes of getting there) of the human body. "We are capable of amazing things in this life, especially when our mechanical vessel is functioning properly."
Kate believes that holistically approaching health should be given consideration from beginning to end of an ailment. Oftentimes preventatively, but also be treated as a follow through for surgical intervention. Bodywork is rewarding to see through. She takes great pride in watching clients progress along their own path and enjoys the reward of seeing them reach their goals.
Certifications/ Education
Kate studied at Pensacola State and focused her undergrad in kinesiology. She then graduated from Casey-Reilly School of Massage in September 2020. Prior to joining our team, Kate worked as a licensed massage therapist for a chiropractic office and as a Physical therapist assistant before heading down the massotherapy road.

Matt Campbell
Provider
Fitness Director, Exercise Specialist
Matt brings over 18 years of experience in the fitness industry and a passion for movement and people!  He has an insatiable appetite for learning and has always had a fascination with how things work. That curiosity first manifested during his studies at VCU and evolved over a life of navigating his own chronic pain and injuries and the search for information and hard to find answers. He credits that important journey, though, with truly learning the capabilities of the applied human body and the transformative power of strength training.
From his time at VCU to over a decade spent coaching in some of the top clubs in NYC and now back to his home state, he has trained in a myriad of gym and fitness centers from private clubs to some of the most prestigious facilities in the country. He remembers taking some of the first fitness courses in "Functional Training" and has done extensive continuing education in the areas of posture, biomechanics and corrective exercise. The only thing that rivals his passion for improving the way people move, is his desire to empower his client in their own health journey; to overcome obstacles and achieve their goals. He is a true coach, completely committed to and invested in his clients and their success.
On a personal note…
Matt is also a proud father of the two most creative, determined and independent girls. In a house of all women, he admits that he is completely outnumbered but also acknowledges that he wouldn't have it any other way.
If not in the gym he may be found coaching his daughters' sports, going on adventures with his family, singing and playing music (he plays three instruments), or enjoying a rare choice bourbon with friends.

Kim Scholl
Provider
Exercise Specialist + Fitness Coach
Kim developed an appreciation for strength and efficient movement at an early age, growing up on a farm in Michigan. After a family move to Florida, she kept moving via dance, running, and group exercise. She completed BS and MS at the University of Florida, teaching as a graduate student in the Dept. of Health and Human Performance. She realized during that time that she absolutely loved being able to educate people about fitness and how to make it a fun and enjoyable journey. She continued to be curious about the body, graduating from massage school in Pensacola, FL. She has also completed a 200hr yoga instructor course in Virginia Beach.
Kim has trained clients in California, Texas, Florida, Rhode Island, and Virginia while her husband has been deployed for up to a year at a time. She is constantly seeking new opportunities for education in order to find ways to inspire and motivate folks to enjoy the art and science of physical fitness.
On a personal note…
Long, long ago, in a bar in Pensacola, Kim met a handsome Naval Aviator.  They eloped and the Navy moved them many times, but when hubby'a military service landed the two in Virginia Beach, Kim (at 7 months pregnant at the time), announced, "I'm home!"  They now have two grown children, one son who graduated from JMU and a daughter still in college. They recently added two English Labs to the mix, who love going to the beach and playing fetch.  In her spare time, Kim enjoys reading, hiking and biking. She and her husband recently rode the Capital Trail, from Jamestown to Richmond, spent the night and rode back the next day. Over 100 miles round trip…on a 3 speed beach cruiser. And loved every second of it!

Michelle Hilliard
IINHC + OTR|L • Provider
Certified Nutritionist
Shelly's holistic approach to nutrition will help you to find the nourishment that feeds your body and your soul to help you maximize each day. Her goal as a health coach is to mentor and empower you to take control of your health by implementing proper nutrition, behavior changes, and better lifestyle choices that will contribute to the achievements of your personal wellness goals. Shelly believes in a bio-individual perspective, there is no one size fits all approach to help people reach their goals. She also believes in finding the balance in our lifestyle choices that nourish our bodies off the plate (career, relationships, physical activity, spirituality, finances, etc) and what nourishes us on our plate through our diet. Her goal is to help you find the balance between these two areas. Shelly's love and passion for people and wellness help her to continue growing her knowledge base to help bless the people around her with the tools to assist them in living their best life on and off the plate. Shelly has been in the health care arena for 13 years.
Certifications
Master's Degree in Occupational Therapy
Bachelor's Degrees in Health Science and Psychology
Certified by the Institute for Integrative Nutrition
On a personal note…
Her life outside of work consists of chasing after her two children, enjoying the beauty of nature, and a love for reading.

Vivian Takafuji
PHD + LAC + DIPL OM • Provider
Acupuncturist & Chinese Herbalist
Vivian is an experienced acupuncturist bringing her great healing wisdom and expertise to our Thrive team! She earned a Master's of Acupuncture and a Master 's of Chinese Herbalism degree from Southwest Acupuncture College, Boulder campus.
Vivian is certified as a Diplomate in Oriental Medicine issued by the National Certification Commission for Acupuncture and Oriental Medicine (NCCAOM). She is certified in Clean Needle Technique and is licensed to perform acupuncture in the Commonwealth of Virginia through the Board of Medicine. Other degrees include a Master's of Medical Qigong and a Doctorate in biomedical research.
Vivian is dedicated to the practice of the holistic healing arts and draws upon Traditional Chinese Medicine (TCM) to address health concerns and improve well-being. TCM theories are used to identify the "root" of a health condition, rather than treating only the "branches" or clinical symptoms. Her goal is to integrate complementary treatment strategies with Western medical supervision to best support the patient as a whole.
Vivian listens with a patient ear and treats with a compassionate heart. She specializes in pain management, often incorporating a variety of bodywork techniques. Other areas of interest include gynecological issues (menstrual irregularities, menopausal symptoms, etc), treatment of allergies and incorporation of auricular (ear) acupuncture. Her philosophy is that we all possess an innate healing wisdom and the patient and therapist can work as a team to bring the body-mind into balance.
On a personal note…
Vivian enjoys spending time in nature on beautiful days and walks in the woods with her little dog.
Her favorite foods are Indian and Thai.

Anna Eastburn
Provider
Registered Dietician, Board Certified in Sports Dietetics
Anna is, what one would call, a Pioneer Woman. Her path, while non-traditional and unconventional, has been anything but ordinary.  Once a dance instructor and account executive turned Performance Dietitian, Anna's road has been paved with unique work, and amazing life and food experiences that led her here to Virginia Beach. What she loves about being a dietitian is the food, the science, and the ability to investigate and problem solve.
Anna enjoys having thought provoking conversations with clients/athletes. This facilitates putting the puzzle pieces together to get to the root cause of their nutrition challenges. With this information, she devises a personalized plan to best fit their needs. She takes a practical, food first approach to nutrition, offering simple and straightforward solutions to both sports and everyday nutrition challenges. Anna considers the individual's personal food preferences and honors their culture. She does not prescribe diets. Alternatively, she promotes a healthy lifestyle that incorporates an integrative and holistic approach consisting of high-quality nutrition, exercise, restorative sleep, self-care, and stress management with the ultimate goal of promoting strength, vitality, and longevity.
Anna's Experience
Anna has worked in the field of nutrition for 14 years and has specialized in sports nutrition for nearly 11 of those years. She enjoys working with athletes, performing artists, military and first responders, as well as women and men who have a desire to enhance their health through nutrition.
Education / Certifications / Training Courses
M.S. in Exercise Science from California University of Pennsylvania
B.S. in Health Sciences from the University of Medicine and Dentistry of New Jersey
B.S. in Marketing from University of Houston- Clear Lake
Registered Yoga Teacher (RYT) 200-hour
Performance Enhancement Specialist (NASM)
On a personal note…
Anna is a foodie, yogi, photographer, and jetsetter at heart. She calls Virginia Beach her hub and hits the road every chance she gets. She loves to explore our beautiful country, taking in the landscape and scenery while partaking in the culture and cuisine.
She is a self-proclaimed culinary goddess and spends countless hours in the kitchen meal prepping and creating recipes.  In a perfect world, she would build an entire house around the kitchen where her family and friends would gather to share amazing food and stories, while country music, jazz, or Broadway tunes play in the background
When she is not working, traveling, or cooking, Anna can usually be found on the dance floor. She traded in her jazz and tap shoes for cowboy boots and has not looked back. Dancing is like breathing to her. When she's on the dance floor, she owns it. It is her passion, her first love, and in her opinion one of the best ways to maintain a healthy body and reduce stress.

Jen Fedorowicz
Reiki Master + B.E.S.T. Practitioner + E-YRT
Energy Medicine Specialist + Yoga Instructor
Jen Fedorowicz is a Reiki Master,  B.E.S.T. (Bio-energetic Synchronization Technique) practitioner and E-YRT (Experienced Registered Yoga Teacher) as well as the founder of jEnergy.  Jen works with clients to get energy moving through the body for physical + emotional healing.
All of life is a reflection of your energy flow. Whether you have blocks causing physical disease or blocks keeping you stuck in life.
Jen's signature service, "jEnergy", is a fusion of ancient yoga practices along with energy medicine as a certified Energy Codes Facilitator. jEnergy infuses Energy Codes into her teachings to help you activate untapped energy and neurocircuitry in your body and empower your hidden potential to become one with your true, essential self. Her work is grounded in practical, accessible movement patterns, breathwork, and meditations.
Jen is a teacher at heart and equips every client she encounters with easy tools to use and incorporate into your life to keep your energy flowing and help you access the healer within you.

Karyn Pereira
Back End Manager + Exercise Specialist
Karyn is an energetic, motivated professional who thrives within a team environment. Her passion for physical therapy is seen daily as she prepares treatment areas, equipment, and materials, along with performing procedures under the supervision of our physical therapists.
She is currently enrolled in a physically therapy assistant program and will graduate in 2018, which will lead her to continuing her passion as a licensed PTA. Working at Thrive has allowed her to focus on her education and gain hands-on experience as she finishes schooling. She also has 20 years worth of customer service experience, and understands the great importance of building and maintaining client relationships.
On a personal note…
Loves going to the gym, being outdoors, and spending time with her children
Loves to eat pizza
Favorite Movie – Lego Batman Movie
Favorite Music – Anything that keeps her motivated while she runs

Olivia Hanawalt
Exercise Specialist + Rehab Aide
Olivia is a recent graduate from Radford University who has had a passion for all things encompassing Physical Therapy. She plans to continue her education with an advanced degree in Physical therapy and further pursue her dreams of assisting people live a pain-free life. She loves connecting with each and every patient in order to provide the best care possible. She has a potential interest to work with the Pediatric population in the future.
On a personal note…
Born in Hawaii but grew up in Virginia Beach
She is a Radford University Alumni with a Bachelors of Science
Loves spending time with her goldendoodle, Pepper, and eating Italian food
Hobbies include knitting and reading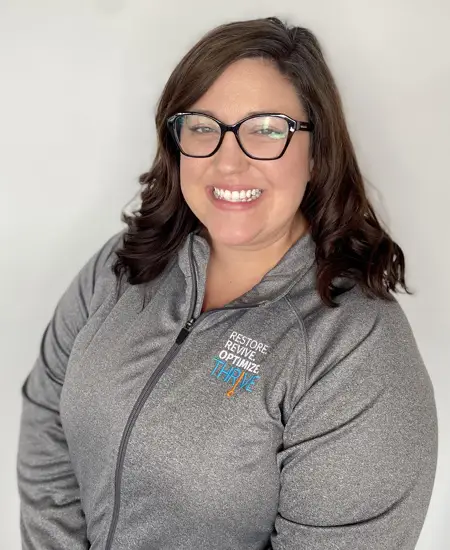 Lindsay Lopez
Marketing & Business Development Director
Lindsay has worked in sales, marketing, business development, and relationship management for the majority of her career. She has a ton of experience in the medical marketing world including radiology, physical therapy, occupational therapy, speech therapy, medical fitness, and hospice.
She is excited to be a part of the Thrive team and loves Thrive's personalized, proactive, and holistic approach to care. Lindsay can't wait to help more clients find Thrive and make it a part of their health and wellness journey!
Education / Certifications / Training Courses
Master's of Business Administration, Averett University
Bachelors of Science in Business-Marketing, Old Dominion University
On a personal note…
Lindsay is married with two daughters and two dogs. Lindsay grew up playing soccer, basketball, and running cross country. She played soccer her freshman year of college at a D2 school in NC. When she is not at work, Lindsay loves to watch her girls compete in their chosen sports (soccer, sailing, basketball, volleyball), or spend time out on the water as a family. Lindsay loves country music!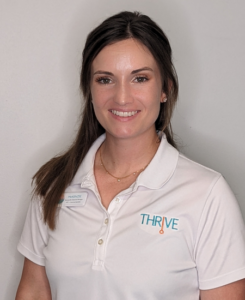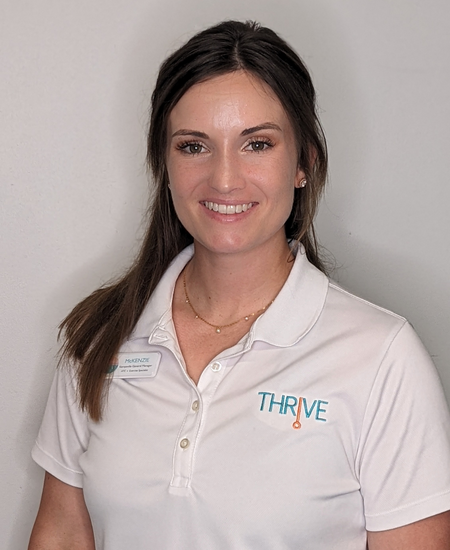 McKenzie Makar
Certified Athletic Trainer, Kempsville General Manager
McKenzie is a Certified Athletic Trainer having spent most of her career assisting athletes in wellness and prevention, emergency care, injury evaluation, and rehabilitative care. She made her way to THRIVE inspired to approach personalized care more holistically and proactively.
McKenzie values progressing her patients physical and mental strength, as well as her own. She believes everyone should be able to move efficiently and pain free, whether that is in the gym, your job, sport, or home. "We are all in this health and wellness journey together for the long run. Approach everyday with the goal to become 1% better."
Education / Certifications / Training Courses
Master's of Athletic Training, Old Dominion University
Bachelors of Athletic Training, University of Tampa
Certified Personal Trainer, NASM
On a personal note…
Moved to VB from Fort Myers, FL in 2018.
Happy dog mom to two rottweilers
Hobbies: Strength training, reading, going to the beach
Favorite Music: Country

Kate Spina
Administrative Assistant
After being diagnosed with two chronic conditions in her early 20s Kate was forced to reevaluate when health meant to her. She believes health requires a holistic approach, not just concentrating on the body, but the mind and the spirit as well.  She shifted her focus to studying wellness and fitness after graduating college, expanding her knowledge from coaching, to personal training, to yoga and teaching group fitness.  She is excited to share her journey in hopes to help others on their own path to wellness.
On a personal note…
Outside of the office you can find Kate outdoors with her husband and  two dogs. She enjoys hiking and taking big adventures. She has had the opportunity to explore Patagonia, Chile, summit Mt. Kilimanjaro, backpack across Europe and live in her travel trailer while snowboarding the mountains of the western US and Canada.  When she's not out getting dirty, Kate is likely to be found reading a book or working on puzzles. She and her husband are excited to welcome a baby boy to their family and start a completely new adventure!

Bryanna Baca
Front Desk Sales Representative
Bryanna has always had an appreciation and deep understanding that people should be treated as a whole. She was so inspired that she made her way to Thrive after working as a home health aid for two years as well as going through nursing school. The Western medicine world proved to have too many holes to fulfill her holistic desire to be a part of someone's healing journey.
On a personal note…
Bryanna is originally from Hawaii and moved to Virginia after high school. She is the eldest of four children and has two cats that are beyond spoiled. She enjoys listening to various types of music, being outdoors, watching old horror movies, and trying new foods. She loves sushi and painting.

Ty Mely
Medical Billing Specialist
Ty has over six years of medical billing and healthcare administration experience. She was born and raised in New York, where she studied herbalism, health science and built her career in medical billing.
On a personal note…
Outside of her medical billing experience she has spent over a year as a birth and postpartum doula. During her free time she enjoys doing yoga, reading and going on nature walks. Ty has a true passion for helping people and offering care however she can to those around her.
MARKET SQUARE
2830 Virginia Beach Blvd.
Virginia Beach, VA 23452
Directions
HOURS
Monday • 9am - 7pm
Tuesday • 9am - 7pm
Wednesday • 9am - 7pm
Thursday • 9am - 7pm
Friday • 8am - 4:30pm
Saturday • 9am - 2pm alternating
Sunday • CLOSED
CONTACT INFO
(757) 364-0067
Fax: 757-416-7777
KEMPS RIVER
1320 Kempsville Road
Virginia Beach, VA 23464
Directions
HOURS
Monday • 11:30am - 7pm
Tuesday •  CLOSED
Wednesday • 10am - 6:30pm
Thursday • 9am - 5pm
Friday • 9am - 4:30pm
Saturday • CLOSED
Sunday • CLOSED
CONTACT INFO
(757) 364-0067
Fax: 757-416-7777