Thrive is Your Wellness Partner
It is our aim to empower people of all lifestyles to be proactive with their health and live a balanced, resilient life.
Thrive Proactive Health is a locally-owned, premier health and wellness clinic with two offices in Virginia Beach. We offer science-based, integrative treatments and are devoted to personalized care. 
Thrive is a team of committed and hard-working professionals devoted to the healing, performance, and empowerment of our clients supplied by our dedication to proactive health, personalized services, and a conviction towards delivering the results they need to thrive at home, at work, and in competition.
We strive for excellence.
We hold high standards for ourselves and focus on the constant improvement of our practice. It is our promise to strive to understand and satisfy the needs of your health. We deliver what we promise.
We provide innovative care.
We develop strategic and creative solutions for all of clients. Healthcare and technology are ever-changing and advancing and we are continuously deepening our knowledge and embrace innovative approaches.
We believe in the power of teamwork.
We've created a culture that encourages and thrives off of 'togetherness.' We believe that when our team works together, you receive the best care and most successful results. Support, respect, and trust within our team ensures that we're working with a common purpose for your needs.
Julie Blandin
PT + ATC + CSCS + PRC • Provider
Biomechanical Specialist and Movement Expert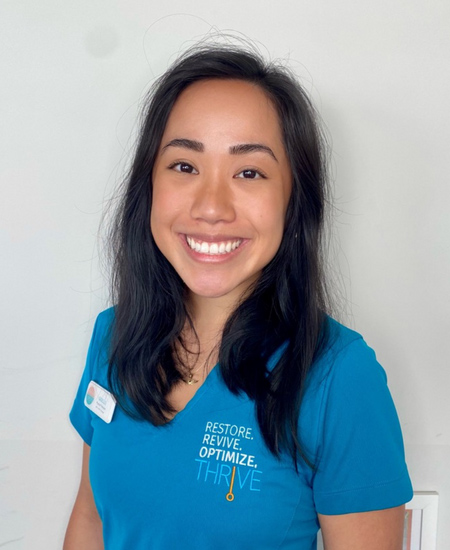 Giselle Vermilyea
DPT + RYT • Provider
PT Clinical Director + Educational Coordinator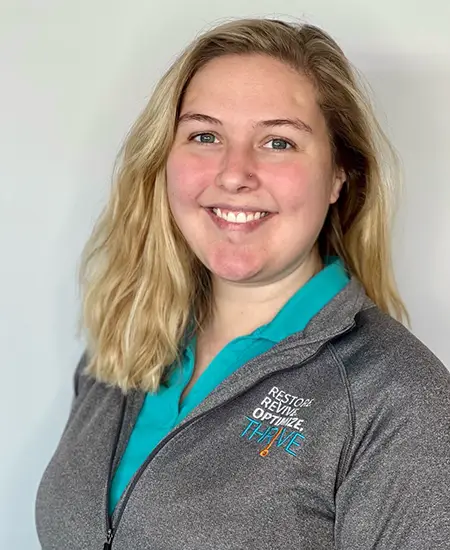 Brooke Chandler
PT + DPT • Provider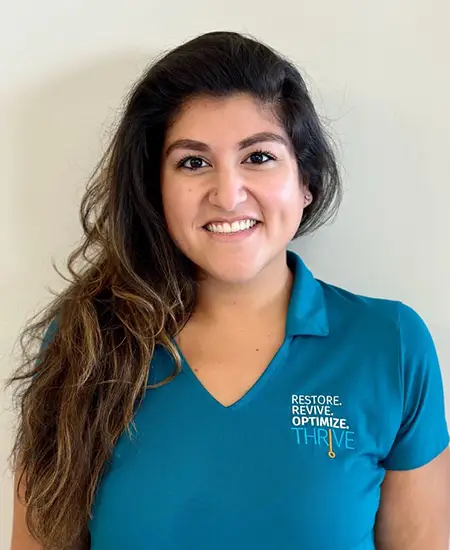 Dr. Golzar "GigGi" Ghanbari
DC • Provider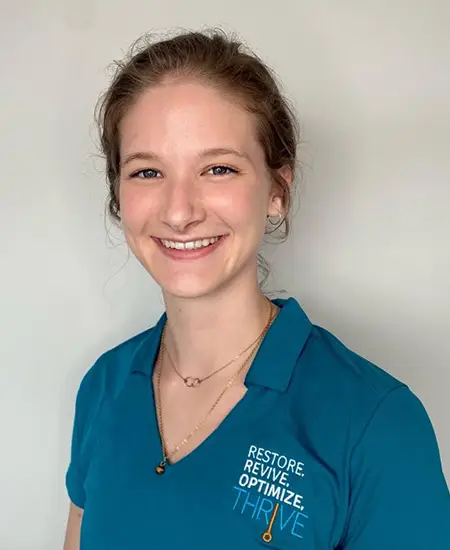 Stephanie Moyers
LMT • Provider
Chantal Owen
CMT + CR + CCA • Provider
Massage Therapist + Aromatherapist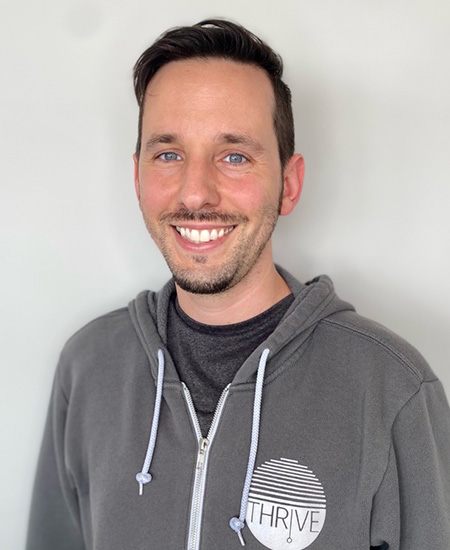 Josh Olechnowski
LMT, RYT • Provider
Kim Scholl
Fitness Coach + Exercise Specialist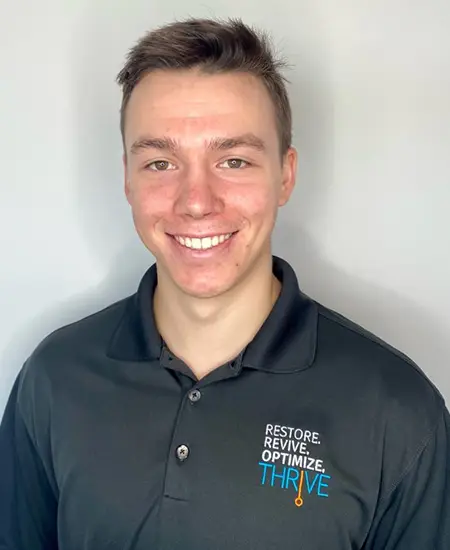 Jake Freeman
Fitness Coach + Exercise Specialist + Sports Performance Coach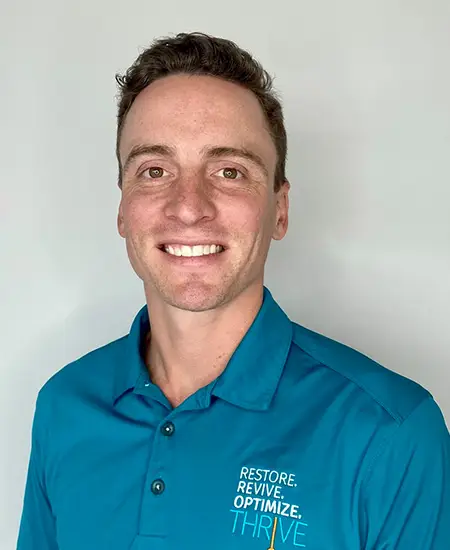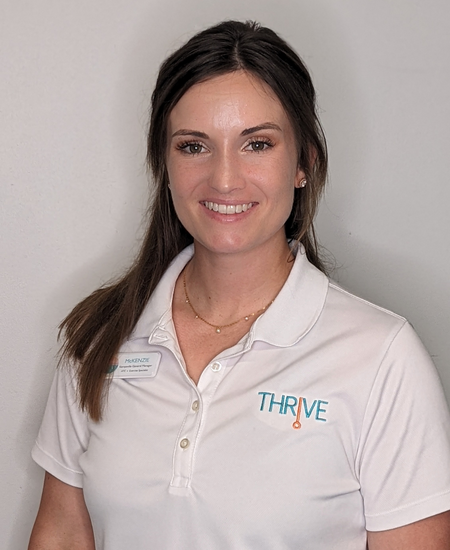 McKenzie Makar
KR Office Manager
Special Projects/Marketing Coordinator
Karyn Pereira
Back End Manager + Exercise Specialist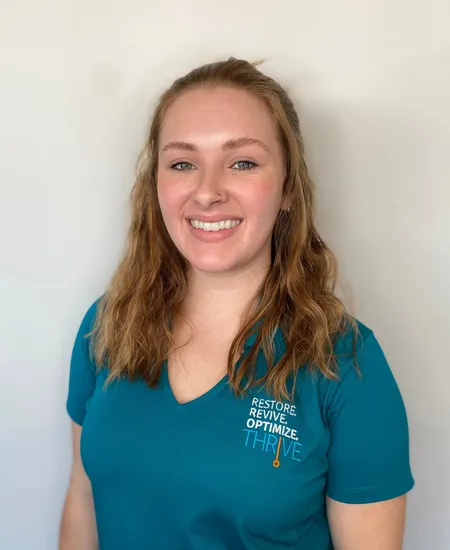 Olivia Hanawalt
Exercise Specialist + Rehab Aide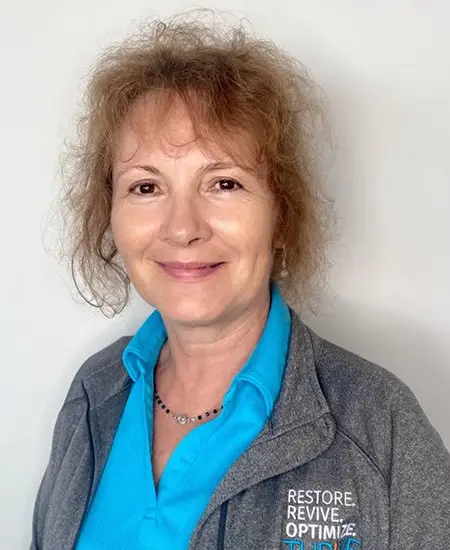 Lada Alger
Lic.Ac, Dipl. NCCAOM + MSA • Provider
Jen Fedorowicz
Reiki Master + B.E.S.T. Practitioner + E-YRT
Energy Medicine Specialist + Yoga Instructor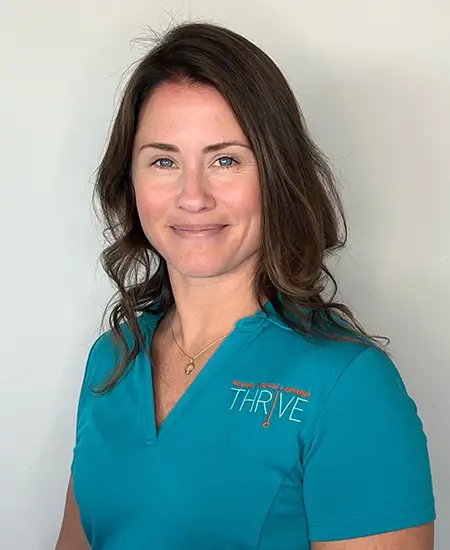 Krystin Pearl
Program Coordinator Marketing + Business Development
Michelle Hilliard
IINHC + OTR|L • Provider
Bryanna Baca
Lead Front End Representative + Sales Associate

Julie Blandin
PT, ATC, CSCS, PRC, DipACLM • Provider 
Biomechanical Specialist & Movement Expert and Physical Therapist
Julie is an industry leading Sports Rehab and Postural Restoration® Specialist with over 17 years of experience in the Fitness and Sports Medicine industry. She is the only Hampton Roads Therapist Certified Provider in Postural Restoration®.
Through her diverse educational background and willingness to explore the unknown, Julie has developed an extensive and unique postgraduate skillset to offer you a holistic perspective on injury rehabilitation, prevention, and maintenance. Julie's expertise bridges the gap between rehabilitation and performance. She highly values and understands the integration involved in the continuum of care associated with treating athletes and patients of all ages.
She has aborted many traditional therapy techniques in the quest to learn an advanced science that offers even the toughest patients some if not complete relief.
"I love purpose, passion, and serving others. Helping people achieve their goals and the health of our team is extremely important to me. I liberate and amplify the strengths and talents of others and facilitate teamwork so that we together can exceed expectations."
– Julie
Julie's Experience
Licensed Direct Access Physical Therapist
advanced training in: 

Movement Impairments
Functional Movement
Osteopathic Manual Medicine
Pain Science
Dry Needling
Vacuum Cupping Therapy
Anatomy Trains
Various Manual Therapies
Instrument Assisted Soft Tissue Mobilization
Certified Provider in Postural Restoration

Certified Athletic Trainer: experienced working with athletes of all levels, including: 

Weekend warriors
Elite collegiate
Professional
Tactical

Certified Strength & Conditioning Coach

Extensive Post-Graduate Study in the Postural Restoration Science

Faculty Member of the Postural Restoration Institute: teaching nationally to: 

Health Care Practitioners
Strength Coaches
Athletic Trainers
Fitness Professionals
On a personal note…
Loves boating, beach days, and country concerts
A proud military wife
Loves to eat anything Italian
Favorite movie – Fast & Furious
Favorite music – Country

Giselle Vermilyea
DPT, RYT • Provider
PT Clinical Director + Educational Coordinator
For Giselle, yoga has been an excellent way to balance mind and body while promoting healthy movement patterns. She aims to integrate principles of yoga with her physical therapy practice and as it ties into postural restoration. She believes that movement is medicine and everyone is capable of changing and optimizing their personal journey with health and wellness.
Giselle's Experience
Giselle's clinical experience has been largely in outpatient orthopedic physical therapy. Throughout her education and training, Giselle has aimed to dissect what motivates others to pursue healthier, holistic, and more sustainable outcomes rather than chasing symptoms.
She has had the opportunity to work with individuals of all ages and functional capacities – from military members to weekend warriors – and enjoys the challenge of creating an individualized treatment plan to optimize one's movement.
Education / Certifications / Training Courses
Doctor of Physical Therapy from Samford University in Birmingham, AL
Certified in Dry Needling
Registered yoga teacher, certified in hatha-vinyasa yoga instruction
Further education in Nutrition and Healthy Living from Cornell University
On a personal note…
Giselle has been fortunate to be well-traveled from trips with her family growing up, but would love to visit more of Europe with her husband and son! She lived in Japan for three years before moving to Virginia Beach and loved the opportunity to live abroad. She finds cultural immersion eye-opening and fascinating.
Giselle is a proud mother and military wife. She values time with her family and creating experiences with her baby boy and husband.
Hobbies include going to the beach, cooking and trying new foods, yoga, hiking, and cycling

Brooke Chandler
PT, DPT • Provider
Physical Therapist
Brooke is a Virginia beach native and has found most joy in her career by combining her expertise of manual therapy with movement to guide her patients. She is very excited to incorporate postural restoration into your plan of care to optimize your daily life. She believes there is a way to navigate your path to restore doing what you enjoy pain-free, even if it means that path looks a little different than what you imagined. She encourages all her patients to be open-minded and positive.
Brooke's Experience
Brooke has spent most of her career working with outpatient orthopedics. This has encompassed providing treatment for a variety of patients including post-surgical, athletes, weekend warriors, active duty military and families.
Education / Certifications / Training Courses
Doctor of Physical Therapy from the University of St. Augustine for Health Sciences
Extensive education in Manual Therapy courses
On a personal note…
Brooke is a proud mother, military wife, and fur mom to 2 pups.  She loves volleyball and has played since the age of 14 and now coaches. Her favorite hobbies include reading a good thriller book, traveling, and getting together with friends for karaoke.

Dr. Golzar (GiGi) Ghanbari
Doctor of Chiropractic
Lead Chiropractor + Chiropractic Program Director
GiGi is a Virginia Beach native and graduated from Ocean Lakes High School in the heart of Hampton Roads. After suffering from a major kickboxing injury, she discovered and fell in love with the chiropractic profession and has never looked back. She loves helping people heal from injuries like her own and watching how far they progress with chiropractic care and rehabilitation exercises. Although she did not begin her chiropractic journey until attending Virginia Tech, she was able to overcome her injuries and now emphasizes the importance of getting your spine checked from a young age.
Chantal's Experience
GiGi has spent most of her career working with patients from all walks of life — from newborns to senior citizens trying to get around more comfortably —  she has adjusted them all. She believes that looking at the body biomechanically as a whole is more beneficial than looking at just one joint or problem area.
Education / Certifications
Doctor of Chiropractic from Life University in Marietta, Georgia
Bachelors in Human Nutrition, Foods, and Exercise Sciences from Virginia Tech
Extensive education in Thompson Drop-Table Technique as well as pediatric and perinatal adjusting techniques
On a personal note…
You can always find GiGi making a joke in our office as she loves to laugh, live life to its fullest and have a great time. She has been an avid basketball and tennis player from a young age and loves working with athletes on improving their performance. When she is not cheering on the Virginia Tech Hokies, you can find her on a boat or at the beach enjoying the beautiful weather with her other half and daughter.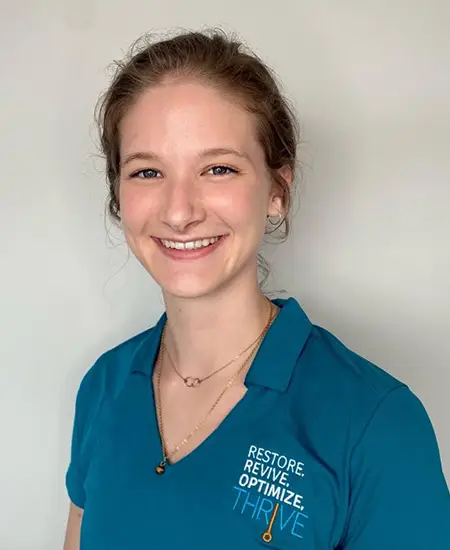 Stephanie Moyers
LMT • Provider
Lead Massage Therapist
My personal philosophy is that everyone has the power to take control of their wellness journey. It is never too late, you are never too old, and every individual has the capability to make real positive changes to their lifestyle with determination, focus, and perseverance.

I love massage therapy because I am able to act as a facilitator for my clients; I am merely a guide, encouraging them to look at the whole picture and discover more about themselves by improving body awareness throughout their daily lives and work, hobbies, and exercise.

The most gratifying part of this field for me is when my clients (some of which have struggled with chronic pain for years/decades) can look back on our sessions of the course of a few months and see tangible differences in how they move with increased flexibility, increased mobility and strength, more energy, and a newfound optimism and belief that they don't have to live in chronic pain.

I do what I do to empower my clients, to spread empathy, and to nurture a more holistic approach to wellness wherever and whenever I can.
Education / Certifications / Training
Bachelor of Science in Biological Sciences
Bachelor of Arts in Dance
600+ hr massage therapy licensing program at the Advanced Fuller School of Massage
On a personal note…
Stephanie loves the arts, nature, exploring new places and cultures, and trying new foods! She has a deep love for plants and animals and considers herself as a lifelong learner.

Chantal Owen
CMT + CR + CCA + HT level 4 student • Provider
Massage Therapist + Aromatherapist: Pain Relief, Pain Management and Relaxation Specialist

Chantal specializes in providing pain relief, pain management and relaxation to individuals seeking to optimize their personal and professional potential, well-being, and quality of life. She has over 15 years of experience working holistically and intuitively with people challenged with acute and chronic musculoskeletal pain and dysfunctions, hormonal, digestive, autoimmune disorders and traumas. Chantal has a particular interest and proficiency working on cranium, jaw, neck, shoulders, back, hips and feet to promote individual homeostasis while addressing specific needs.
Through her own life challenges and needs for physical, emotional and mental balance, Chantal has developed a unique set of skills and a keen sense of empathy for people eager to restore, improve and maintain their health and well-being. Her mission is to support her team's work in providing peace, comfort, connection, meaning, and purpose during time of struggle, as well as physical demand and need for superior athletic performances. Chantal is a blue belt Jiu-Jitsu and kickboxing student familiar with injuries occurring during combat sports and always dedicated to provide pain relief and solutions to address this type of injuries.
Chantal has learned and mastered effective and non-invasive massage techniques that focus on the medical benefits of soft tissue manipulation, mobilization, alternative pressure and essential oils to provide superior and cumulative customized results.
"As Paulo Coelho said 'I bear many scars, but I also carry with me moments that would not have happened if I had not dared to go beyond my limits.' I embrace the belief that, in the pursuit of balance and well-being, there is no such thing that shortcut or easy fix; it requires dependability, discipline, determination and commitment."
– Chantal
Chantal's Experience
Certified Massage Therapist
Certified Reflexologist
Certified Provider in Postural Restoration®
Certified Clinical Aromatherapist
Trained Massage Cupping Practitioner
Trained In Medical, Sport, Myofascial Release, Neuromuscular, Hot Stones, And Massage For Cancer, Mastectomy, And Breast Surgeries
On a personal note…
Loves to garden, read books, and walk through beautiful parks
A French native who moved to the U.S. with her cats
Loves all things chocolate
Favorite TV Show – The Big Bang Theory
Favorite Music – Michael Bublé

Josh Olechnowski
LMT, RYT • Provider
Massage Therapist
Josh is enthusiastic about providing a health and wellness experiences that facilitates release, relaxation, and reconnecting within. He meets each person where they are, observing and actively listening while communicating each step for a custom treatment. His specialties include relaxation massage, Himalayan salt stone massage, sports massage, and deep tissue massage.
His intention is to empower one's inner rootedness and self-awareness of their spirit, mind, and body connection and being attentive to their signals. Through massage therapy modalities, breathwork, meditation and yoga, he enjoys guiding others to cultivate their inner peace and sense of integrated well-being.
On a personal note…
He is dual-licensed as an LMT in Virginia and New York, and a Long Island transplant.
His favorite activity is writing and reading literature.
He loves to be in nature, hiking, kayaking, camping and traveling.
He enjoys visiting local cafes, wineries, and supporting the arts and local business from Williamsburg to the Outer Banks, and expanding his sense of community in Hampton Roads.

Kim Scholl
Provider
Exercise Specialist + Fitness Coach
Kim developed an appreciation for strength and efficient movement at an early age, growing up on a farm in Michigan. After a family move to Florida, she kept moving via dance, running, and group exercise. She completed BS and MS at the University of Florida, teaching as a graduate student in the Dept. of Health and Human Performance. She realized during that time that she absolutely loved being able to educate people about fitness and how to make it a fun and enjoyable journey. She continued to be curious about the body, graduating from massage school in Pensacola, FL. She has also completed a 200hr yoga instructor course in Virginia Beach.
Kim has trained clients in California, Texas, Florida, Rhode Island, and Virginia while her husband has been deployed for up to a year at a time. She is constantly seeking new opportunities for education in order to find ways to inspire and motivate folks to enjoy the art and science of physical fitness.
On a personal note…
Long, long ago, in a bar in Pensacola, Kim met a handsome Naval Aviator.  They eloped and the Navy moved them many times, but when hubby'a military service landed the two in Virginia Beach, Kim (at 7 months pregnant at the time), announced, "I'm home!"  They now have two grown children, one son who graduated from JMU and a daughter still in college. They recently added two English Labs to the mix, who love going to the beach and playing fetch.  In her spare time, Kim enjoys reading, hiking and biking. She and her husband recently rode the Capital Trail, from Jamestown to Richmond, spent the night and rode back the next day. Over 100 miles round trip…on a 3 speed beach cruiser. And loved every second of it!

Jake Freeman
Exercise Specialist + Fitness Coach + Sports Performance Coach
As a Thriver, Jake experienced first-hand the value and results of our Postural Restoration therapy. That excellent experience led to him joining the Thrive team as one of our fitness coaches, passionate about helping others with the same level of care and skill he received.
Jake has experience creating and implementing training programs for firefighters and police cadets as well for all levels of athletes.
I love helping others reach their health, fitness, and performance goals — whether they are looking to improve the performance of their sport, move pain free, or improve their quality of life. Having been both an athlete looking to improve my performance, and as someone who was stuck in chronic pain over a period of years and unable to participate in many forms of movement, I understand the frustrations that can come with both. My goal is to help others avoid those frustrations and provide a path that will allow them to achieve their goals.
Education / Certifications / Training Courses
Bachelor of Science in Exercise Science and Health Science
Certified Strength & Conditioning Specialist (CSCS)
On a personal note…
Outside of helping our Thrivers, Jake enjoys playing basketball, lifting weights, reading and spending time with his family.

Bryan Ramirez
Mental Performance Coach
Bryan is a Mental Performance Coach who recently finished a Master's program in Sport and Performance Psychology from the University of Denver. He is passionate about understanding what makes humans thrive in their performance endeavors. He has worked with elite college athletes, elite youth sport organizations, high school athletes, and adaptive sports.
I have a passion for the unique struggles that athletes and performers face. My techniques are client-centered and tailored to your unique needs, aspirations, and performance domain. I aim to help you find your "why," raise awareness of strengths and barriers, and develop a program that targets impactful mental skills. I focus on building resilience and psychological flexibility so we can adapt to obstacles that inevitably arise in sport and performance domains.
Education / Certifications / Training Courses
MA in Sport and Performance Psychology | University of Denver
Certified Mental Performance Consultant Candidate (currently pursuing)
Former D1 Baseball Athlete
On a personal note…
Loves music and plays bass guitar
Doggie dad to an Australian Shepherd
Enjoys snowboarding and fly fishing
VB native who loves a good beach day
Coffee snob

Krystin Pearl
Program Coordinator Marketing + Business Development
Krystin has over 20+ years of experience in the health and wellness industry both on the floor as a yoga and group exercise instructor and personal trainer but also behind the scenes assisting management of marketing and promotions for collegiate and professional athletes. Most recently, she's created nutrition and fitness programs to help clients manage their wellness goals and lifestyle changes.
I love teaching others how to become strong, fit and healthy, so they can feel empowered in their everyday life, confident in the body they're in and live each day as the best versions of themselves.
Education / Certifications / Training Courses
Bachelor of Arts in Women's Studies and Sports Marketing
Certified through YogaWorks-RYT 200
Certified AFAA Personal Trainer
Precision Nutrition Level 1 Certified
Certified CORE BARRE Instructor
On a personal note…
Krystin's favorite things are family, friends, food and fitness. She and her husband also love traveling to new places and discovering the local spots. When she's not enjoying participating in athletic competitions, whipping up something delish in the kitchen, you'll find her volunteering at her children's school are just enjoying the outdoors with her family. Or perhaps guiltily (not!) consuming anything on the Bravo network.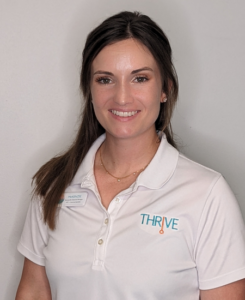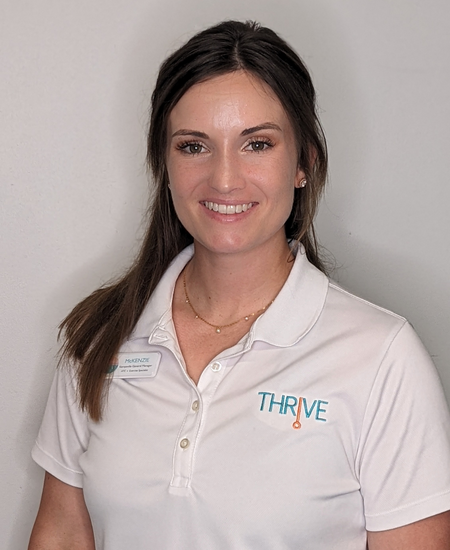 McKenzie Makar
KR Office Manager + Special Projects/Marketing Coordinator
McKenzie is a Certified Athletic Trainer having spent most of her career assisting athletes in wellness and prevention, emergency care, injury evaluation, and rehabilitative care. She made her way to THRIVE inspired to approach personalized care more holistically and proactively.
McKenzie values progressing her patients physical and mental strength, as well as her own. She believes everyone should be able to move efficiently and pain free, whether that is in the gym, your job, sport, or home. "We are all in this health and wellness journey together for the long run. Approach everyday with the goal to become 1% better."
Education / Certifications / Training Courses
Master's of Athletic Training, Old Dominion University
Bachelors of Athletic Training, University of Tampa
Certified Personal Trainer, NASM
On a personal note…
Moved to VB from Fort Myers, FL in 2018.
Happy dog mom to two rottweilers
Hobbies: Strength training, reading, going to the beach
Favorite Music: Country

Karyn Pereira
Back End Manager + Exercise Specialist
Karyn is an energetic, motivated professional who thrives within a team environment. Her passion for physical therapy is seen daily as she prepares treatment areas, equipment, and materials, along with performing procedures under the supervision of our physical therapists.
She is currently enrolled in a physically therapy assistant program and will graduate in 2018, which will lead her to continuing her passion as a licensed PTA. Working at Thrive has allowed her to focus on her education and gain hands-on experience as she finishes schooling. She also has 20 years worth of customer service experience, and understands the great importance of building and maintaining client relationships.
On a personal note…
Loves going to the gym, being outdoors, and spending time with her children
Loves to eat pizza
Favorite Movie – Lego Batman Movie
Favorite Music – Anything that keeps her motivated while she runs

Olivia Hanawalt
Exercise Specialist + Rehab Aide
Olivia is a recent graduate from Radford University who has had a passion for all things encompassing Physical Therapy. She plans to continue her education with an advanced degree in Physical therapy and further pursue her dreams of assisting people live a pain-free life. She loves connecting with each and every patient in order to provide the best care possible. She has a potential interest to work with the Pediatric population in the future.
On a personal note…
Born in Hawaii but grew up in Virginia Beach
She is a Radford University Alumni with a Bachelors of Science
Loves spending time with her goldendoodle, Pepper, and eating Italian food
Hobbies include knitting and reading

Lada Alger
Lic.Ac, Dipl. NCCAOM + MSA • Provider
Acupuncturist
Lada is passionate about helping people of all ages to heal, enhancing their health and wellness to live a harmonious and balanced life to the fullest. She comes to Thrive experienced in acupuncture, cupping, guasha, e-stimulation, moxibustion and tuina massage. Prior to joining Thrive, she worked at the clinic of the China Beijing Academy, and in various hospital and health care settings.
Education / Certifications / Training Courses
Masters in Acupuncture
Training at the Beijing International Center of Acupuncture and Traditional Chinese Medicine
On a personal note…
Lada enjoys walking on the beach all year round, hiking the Shenandoah mountains trails and visiting their magnificent waterfalls. She's an avid practitioner of Yoga, TaiChi, and Qigong.

Jen Fedorowicz
Reiki Master + B.E.S.T. Practitioner + E-YRT
Energy Medicine Specialist + Yoga Instructor
Jen Fedorowicz is a Reiki Master,  B.E.S.T. (Bio-energetic Synchronization Technique) practitioner and E-YRT (Experienced Registered Yoga Teacher) as well as the founder of jEnergy.  Jen works with clients to get energy moving through the body for physical + emotional healing.
All of life is a reflection of your energy flow. Whether you have blocks causing physical disease or blocks keeping you stuck in life.
Jen's signature service, "jEnergy", is a fusion of ancient yoga practices along with energy medicine as a certified Energy Codes Facilitator. jEnergy infuses Energy Codes into her teachings to help you activate untapped energy and neurocircuitry in your body and empower your hidden potential to become one with your true, essential self. Her work is grounded in practical, accessible movement patterns, breathwork, and meditations.
Jen is a teacher at heart and equips every client she encounters with easy tools to use and incorporate into your life to keep your energy flowing and help you access the healer within you.

Michelle Hilliard
IINHC + OTR|L • Provider
Certified Nutritionist
Shelly's holistic approach to nutrition will help you to find the nourishment that feeds your body and your soul to help you maximize each day. Her goal as a health coach is to mentor and empower you to take control of your health by implementing proper nutrition, behavior changes, and better lifestyle choices that will contribute to the achievements of your personal wellness goals. Shelly believes in a bio-individual perspective, there is no one size fits all approach to help people reach their goals. She also believes in finding the balance in our lifestyle choices that nourish our bodies off the plate (career, relationships, physical activity, spirituality, finances, etc) and what nourishes us on our plate through our diet. Her goal is to help you find the balance between these two areas. Shelly's love and passion for people and wellness help her to continue growing her knowledge base to help bless the people around her with the tools to assist them in living their best life on and off the plate. Shelly has been in the health care arena for 13 years.
Certifications
Master's Degree in Occupational Therapy
Bachelor's Degrees in Health Science and Psychology
Certified by the Institute for Integrative Nutrition
On a personal note…
Her life outside of work consists of chasing after her two children, enjoying the beauty of nature, and a love for reading.

Bryanna Baca
Lead Front End Representative + Sales Associate
Bryanna has always had an appreciation and deep understanding that people should be treated as a whole. She was so inspired that she made her way to Thrive after working as a home health aid for two years as well as going through nursing school. The Western medicine world proved to have too many holes to fulfill her holistic desire to be a part of someone's healing journey.
On a personal note…
Bryanna is originally from Hawaii and moved to Virginia after high school. She is the eldest of four children and has two cats that are beyond spoiled. She enjoys listening to various types of music, being outdoors, watching old horror movies, and trying new foods. She loves sushi and painting.
MARKET SQUARE
2830 Virginia Beach Blvd.
Virginia Beach, VA 23452
Directions
HOURS
Monday • 9am - 7pm
Tuesday • 9am - 7pm
Wednesday • 9am - 7pm
Thursday • 9am - 7pm
Friday • 8am - 4:30pm
Saturday • 9am - 2pm alternating
Sunday • CLOSED
CONTACT INFO
(757) 364-0067
Fax: 757-416-7777
KEMPS RIVER
1320 Kempsville Road
Virginia Beach, VA 23464
Directions
HOURS
Monday • 11:30am - 7pm
Tuesday • CLOSED
Wednesday • 9am - 1pm
Thursday • CLOSED
Friday • 9am - 4:30pm
Saturday • CLOSED
Sunday • CLOSED 
CONTACT INFO
(757) 364-0067
Fax: 757-416-7777