The Importance Of Self Care
By: Danielle Lambert
Self-care is the practice of taking an active role in protecting one's own well-being and happiness, in particular during periods of stress. To me this simple definition does not begin to cover the weight the words should hold. When most people think of self care they think of a luxury or indulgence when in truth selfcare is an important necessity for one's mind, body, and spirit. 
The definition also makes an important point on taking care of yourself in times of stress. No matter where you fall among the pandemic we can all agree these are stressful times. Now more than ever we must strive to be disciplined in our self care practises. You do not need to plan an elaborate vacation or spend your life savings to accomplish this. Self care can be as simple as giving yourself the time for a good night's sleep, saying no to an event or activity even if others will be disappointed, or spending fifteen minutes meditating or simply taking some deep breaths in the sunshine. 
We all have busy lives, places to go and people to see. We all want to see a full line of checks next to our to do list. No matter how hard you try to strive for perfection I am here to tell you: you can not drink from an empty cup. When we pour so much of ourselves into our work or personal lives we are drained little by little. If your wish is to keep your passion alive and well, take the steps you need to replenish yourself. No one can do this for you, only you. The more you fill your cup the more you will have to offer the world around you. 
If you are looking for tips on how to be proactive with your self care, Thrive is here for you. Before the holidays come rolling in remember the Thrive process is a composite of one's inner resilience – physically, mentally and emotionally. It's this resilience that allows you to overcome the unexpected and to handle various forms of stress to meet the demands of life without being overwhelmed. If you are in need of self care and don't know where to start give us a shout and we will be honored to help you on your journey.
To guide your self care journey, this month we are raffling off a Gift Basket filled with our Favorite Fall- themed Self Care Treats. To Enter: Book any Massage and upon check out drop off your name and contact information. Happy Fall!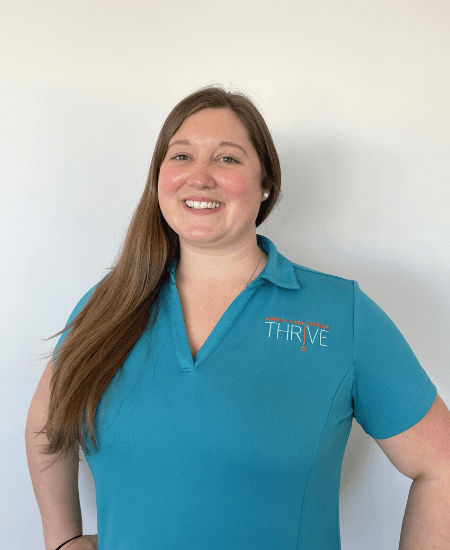 Meet Danielle: Lead Massage Therapist
Danielle is very passionate about Massage Therapy and its life-changing abilities. She has always worked to show people that massage is not a want or luxury, but a need. She has focused her career on educating her clients on the "why" at every opportunity. This allows her to build trust and get excellent results with her clients because they are willing to give their all when they understand the best way to get there.  Danielle believes massage therapy heals not only the physical pain we experience but the mental stress that we all have to deal with in everyday life.