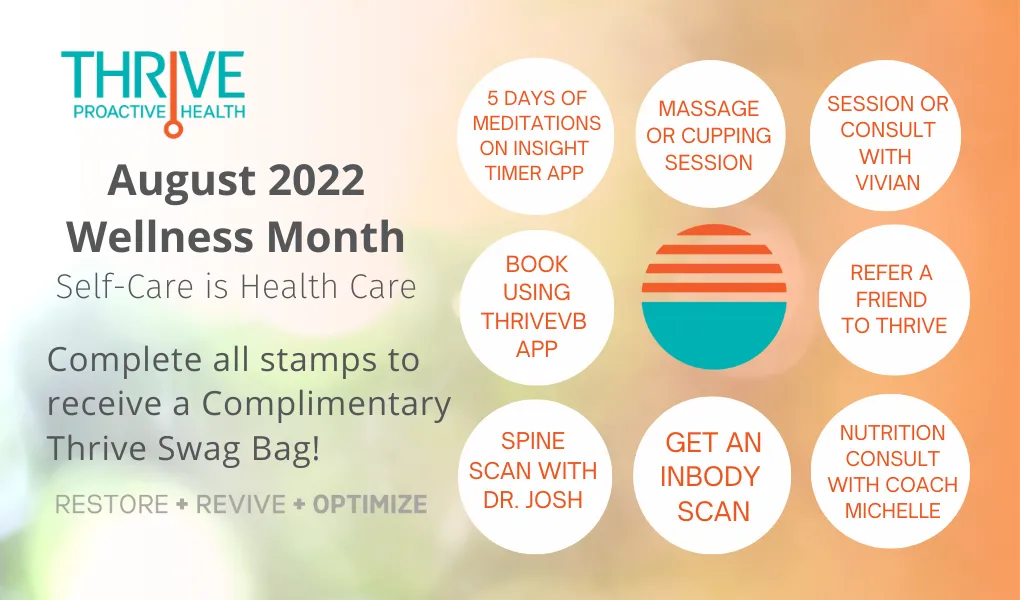 August is Wellness Month!! 
Explore and embrace wellness this month and be proactive in your health. Self care is Health care! 
Pick up your Wellness stamp card at any Thrive Proactive Health location and get rewarded for taking charge of your health this month. Your goal: complete the ENTIRE stamp card within the month of August and get your swag bag of wellness winnings!!
Here's some details on how to complete this challenge:
Enjoy relaxation and melt away stress with the benefits of a Thrive massage or cupping session. Or are you experiencing muscle limitations, pain or discomfort?  Massage will help you release tension and improve mobility. Cupping pulls stagnation out and toxins to the surface and helps to improve circulation, blood and lymph circulation.

We'll verify your appointment type at checkout and award you with a stamp. We'll even count cupping if you get it during a physical therapy appointment as verified with your provider.

We highly encourage both Western and Eastern Medicine and love how Eastern medicine with Acupuncture and Herbology can offer unique perspectives fundamental in healthcare today. Eastern Medicine can help to reduce and manage many symptoms and health issues. This month we encourage you to explore Oriental Medicine with either a full session or consult with Vivian. Oriental Medicine can not only improve your sleep quality but studies have shown that it also helps lower stress in our daily lives. Receive a complementary 30 minute consultation with Vivian on how regular acupuncture and/or herbal Chinese Medicine can help you achieve internal balance. #TheMoreYouKnow 

Meditation is a great daily practice that can help you in

many

areas of your life!

Insight Timer

is a free app available to download that has many guided meditations to use at various times throughout the day.  Insight timer will track your medications. Complete 5 consecutive days of any meditations you like. Show us your Insight timer profile stats of your 5 completed days to any front desk associate to be awarded your stamp for this challenge. Optional, but what we consider an added bonus, is to search for Teacher "Jen Fedorowicz" or the "Jenergy" Playlist and enjoy a guided meditation by our very own thriving energy healer.

Relationships and social interactions that impact our physical, mental, and emotional well-being can propel us forward in our health journey. Create the community YOU want to surround yourself with by referring your friends and family to Thrive. Tell a friend, co-worker or family member about your experience at Thrive and let our front desk know you shared the love for your stamp! Bonus, when those your refer book with us for their first service at Thrive you receive 40 rewards points on your account! 

Proactive chiropractic visits are a great adjunct to any wellness program and our innovative chiropractic scanning technology provides unique insights into your spine health, nerve conductivity, neuromuscular control, and how your body is handling stress. Receive a complementary 30 minute consultation with Dr. Josh that includes an Advanced Insight Scan or get a stamp after receiving any chiropractic appointment.

An InBody scan for body composition testing can be an invaluable tool for your health. Assessing your body composition can not only help you reduce your risk for disease but allows you to understand more about your body then just the number on the scale. Two people can weigh the same, but have very different wellness and fitness needs because of their body composition. This month get a complimentary Inbody scan by one of Fitness or Lifestyle Medicine coaches and you can use it to track the progress of your self care and wellness routine overtime. 

A Health Coach is a wellness professional whose main role is to partner with and guide you to reach your sustainable long term health and wellness goals, whether that's sleeping better, boosting energy, weight loss, stress management, and so much more. Use this month to help you explore dimensions of wellness, look at your health habits and how you are nourishing yourself. Food is only one form of nourishment in our day. Schedule a complimentary consultation with our Nutritionist Michelle or one of our Lifestyle Medicine Coaches to truly help you get the most out of this wellness month. 

Get in the habit of being proactive about your health. This month, book any appointment using the Thrive app. Booking appointments online through the app gives you the flexibility to plan out your self care and wellness services. Download the THRIVE Proactive Health app from the Apple Store or Google Play. Plus as you engage with the app, rewards points get added to your account.  Show the booked appointment to any Thrive front desk associate to receive your stamp!